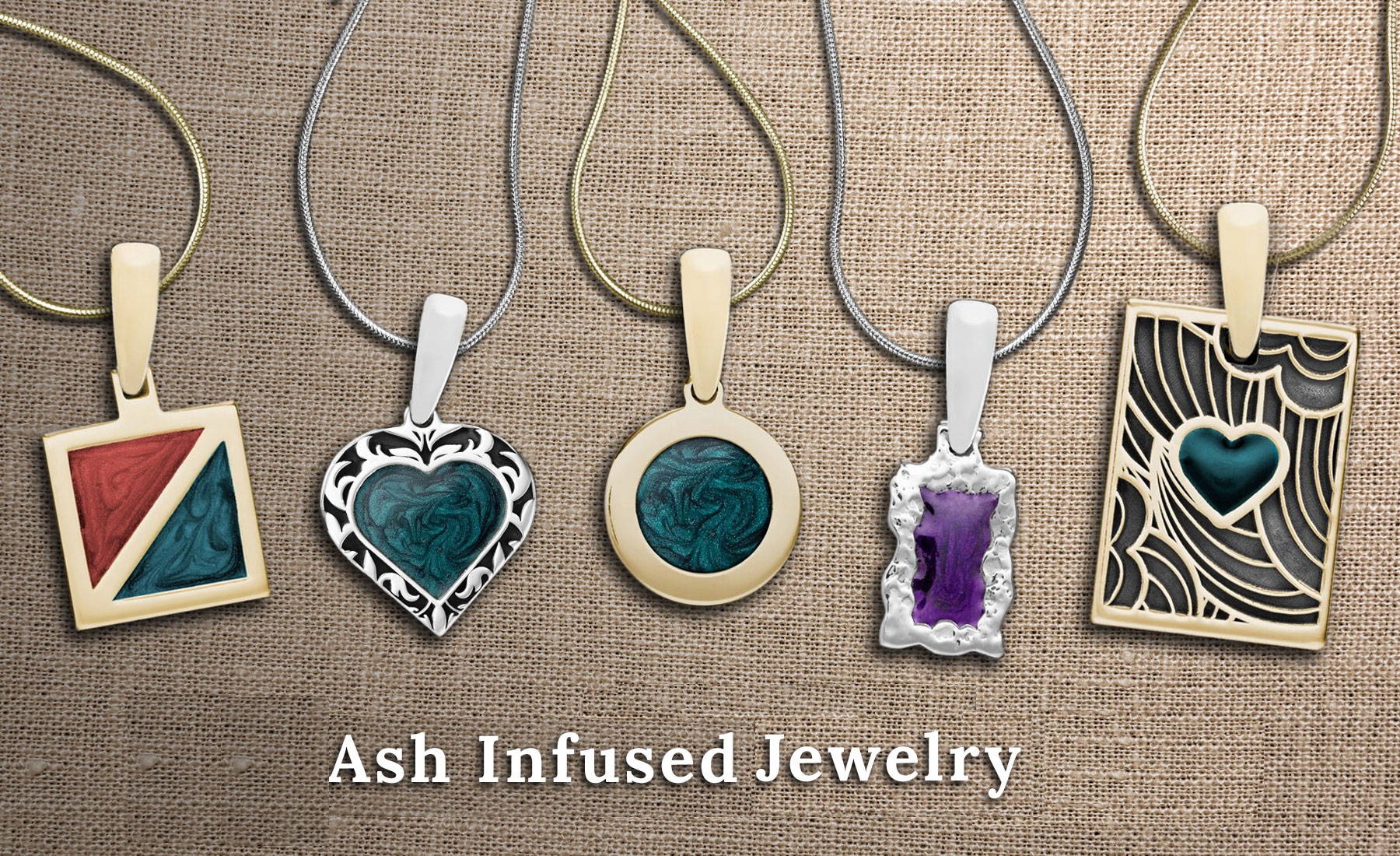 Memories can be wiped away with the passing of time. If you wish to hold on to your loved ones after they have passé away for a longer time, you can decide on ashes infused jewelry. These types of jewelry keep your loved ones closer to you for a long time.
Ashes infused jewelry can be in different materials, styles and even prices.
Glass is one material from which you can get the ashes infused jewelry made. This works out cost-effective and versatile.
What is Ashes Jewelry?
Cremation jewelry has an inner cavity that can store the ashes of your loved one, but ashes into jewelry combines a small amount of the ashes of your loved one into the jewelry.
Every piece of the jewelry is made to order specifically, fashioned and designed by an artist and can be termed as 'unique'.
Different Types of Ashes into Jewelry
You have a wide choice in ash infused jewelry. You can decide on a pair of earrings, a pendant, a ring, cufflinks, bracelet, paperweights, charm beads, diamonds or even crystal.
Ash Infused Rings
Rings are available in different styles and cuts ad also colors. You can get this customized in accordance to your preference. You can decide on the classy style with a single gemstone or beads, or probably choose the traditional style tht I simple and elegant.
Ash Jewelry Necklaces and Pendants
Pendant and necklace are available in a wide variety of materials, shapes and designs. You can use stainless steel, sterling silver or even get this plated in gold. These are often available in intricate designs with gemstones.
Ash Infused Earrings
You can choose the studs in earrings or probably the drop-earrings. This requires a small amount of the ashes of your loved one. This can be made using metal, glass or resin, or even combine all three.
Ash Infused Paperweights
An ash infused paperweight works out the perfect choice for those going to work. The ashes are combined with the colored glass. This displays an amazing display of harmony. You have the freedom to make a choice of the engraving and the color.
Ash Infused Charm Beads
A charm bead works out perfect for those who already have a bracelet. Most of these charm beads with ash infused can fit brands of high quality.
Diamond and Crystal Ash Jewelry
Extreme temperature is used for making the ashes of your loved one into diamonds and crystal. This temperature causes oxidation of the carbon in the ashes and turns it into graphite. The graphite is paced with a catalyst of metal forming a crystal seed. A diamond is made by pressing the core. This can take a long time.
Creation of Jewelry from Ashes
Listed below are the steps used for creating jewelry from ashes. This speaks of only the jewelry that is made out of resin, wiring or metal.
A kit for collecting ash is sent once the order is placed. This kit contains a receptacle with the required instructions on the retrieval of the ashes. An envelope that is self-addressed is also included so that you can send the ashes.
The jewelry is created and prepped for the mixture of resin when the ashes are in transit.
A small bit of the ashes is mixed with the resin color. The ashes are then placed into the pendant and cured. This is then allowed to get hard for a finish like a gemstone.
The jewelry is polished to a finish that has a shine like a mirror. After which, this is secured in a jewelry box made of velvet. The ashes that are not used for the jewelry are packaged securely and packed with the jewelry you ordered.
Tips on Selecting the Right Ash Jewelry
Before you decide on the size, metal and shape along with the engraving of the ash jewelry, it is important to consider specific factors.
Reads More: 7 Easy Things to Knit by Beginners – Ultimate Beginner's Guide
Color Connection
There are times you can connect a specific color to the memory of your loved one. Probably they had a color that made them happy. This is one factor you can consider when customizing the ash jewelry.
A Statement Piece or Simple
You need to decide on whether you will be wearing the ash jewelry on a day-to-day basis or only on occasions. This can help you in deciding the designs and the style and size of the jewelry.
You can go for the bold and big piece of jewelry if you intend making a statement.
Different Metals Options
Everyone has a different choice in the metal they would like to wear as jewelry. You can choose the soft gold tone or the sterling silver. You need to look for metal that suits your skin and does not led to any allergies.
Choosing ash jewelry is one simple and amazing way to keep your loved one who has passed away close to your heart.