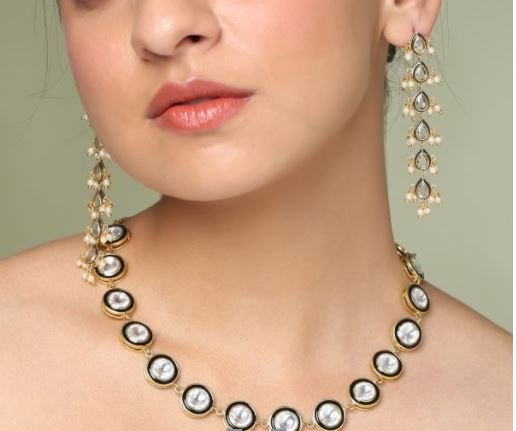 Traditionally, jewelry is a fine symbol of power, wealth, and prestige. Different jewelry expresses different stories, consider women wear an elegant necklace set paired with heavy lehenga, then she must be a bride. But if you closely look at bridal women, you will be able to recognize how important jewelry in her life is. It is a lavishing treasure used to express her timeless emotions. Even minimalist jewelry can make women feel special, beautiful, and stylish at the same time.
People nowadays prefer contemporary jewelry with traditional patterns and designs for plentiful functions or festivals. And, if you are looking for traditional patterned fashion jewelry, Zurooh is the best platform that can provide you with traditional jewelry designs at affordable prices.
Zurooh is an exclusive fashion jewellery brand that entirely focuses on local art associated with rich Indian culture and heritage. It invites small manufactures and artisans to join this venture and showcase their unique and exquisite jewellery designs. Zurooh sells handcrafted local jewellery, which includes beautiful accessories like fashion jewellery earrings, rings, necklace sets, bracelets, bangles, etc. These minimalistic and yet bold jewellery designs will make you fall in love with the local Indian art.
Zurooh offers you varied jewellery designs suitable for different outfits and festivals. For instance, you want to purchase fashion jewellery for wedding function; it provides glittery, heavy, bold, and lightweight, easy-to-wear jewellery at economical prices.
Zurooh has so much to offer from everyone. It includes unique jewellery designs from pearl embedded necklaces to glimmer-looking earrings and everything in between.  Through this platform, small local artists can now show off their specific traditional manufacturing style to make varieties of ornament designs.
Development of local artisans
Local Indian jewellery is famous worldwide for its elegance and traditional designs. Earlier local artisans used to sell their stock of jewellery via retailers. During this three-stage process, the identity of these local artisans remains hidden. The rapid digitalization has helped the local artisans to get appreciation and appraisal for their hard work. Zurooh is a digital platform that allows local Indian artisans to interact and communicate with target customers for their own branding and marketing.
Apart from the traditional manufacturing methods and practices, local artisans now get an opportunity to sell their own ornaments using marketing techniques. This, in turn, helps them grow and develop communication and marketing skills to sell a product.
Helping local artisans and giving them a platform
Zurooh is the digital platform that promotes the valuable efforts of local artisans. It invites local artisans from all over India to join this venture and wherein the beautifully crafted treasures are exhibited. You will be amazed to see the beauty and elegance of the Indian heritage that every treasure holds in its designs and patterns.
The values, emotions, and hard work of local artisans are being ignored by most of the people. They just go and shop at a shopping center or a mall. But we believe in respecting the values, emotions, and efforts of those local artisans who spent their time, sweat, and almost everything in the process of manufacturing these jewelry pieces.
Zurooh provides local artisans an opportunity to raise their voices and showcase hidden skills and talent. It gives them fame, a name, and a platform to raise their unheard voices. Additionally, it connects local artisans directly to the potential customers and shoppers without including the retailer's bridge.
Greater accessibility and reach
Zurooh is an online fashion jewelry platform that provides you 24/7 access, which means you can shop or embrace the beautiful traditional jewelry designs anytime you would want.  You can also order in bulk if you are purchasing for special events or festivals.
Virtual try-on feature
Zurooh is an epitome of fashion that offers you the finest and elegant chic jewellery pieces with a special feature called "virtual Tryon". It is an excellent feature of Zurooh, through which you can virtually try different jewellery pieces to compare its features and patterns. You don't need to go for a hit and trial method to purchase a suitable jewellery piece. Using such a feature you can save your money by purchasing the right jewellery piece as per your face structure or looks.
We respect, love, and care for your efforts
We respect the love and devotion you put on to select a suitable jewellery piece for yourself or your loved ones. Discover the traditional treasure and art pieces of these local artisans to find out the lost rich heritage and culture of our Indian society.
Reads More: A Guide To Choosing The Perfect Engagement Ring For Your Partner
Virtually try and choose the best jewelry pair as per your face and look. Check out the prices and bulk order options for more offers. Click on the order option and get it delivered to your doorsteps. Comment down or contact our service team for more inquiries or help.