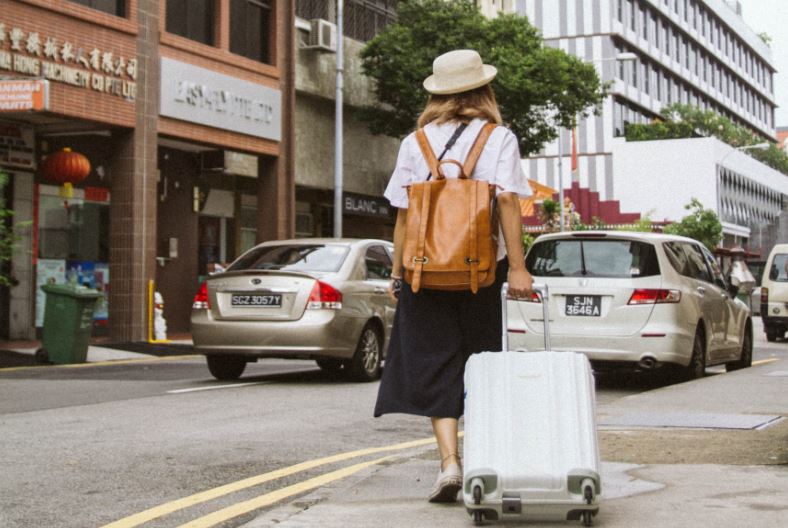 Traveling is difficult enough, and the concern of dressing well is another hassle. There's the anticipation of flying, jet lag, and carrying your stuff around. But according to the experts dressing well while traveling doesn't require much work. Anyone can travel stylishly, and this won't require spending much money or packing many clothes.
Any stylish regular traveler will tell you that minimalism is the way to go when you travel. It prevents you from packing, unpacking, and loading your stuff onto airplanes. All you have to do is put your essentials in a duffel, weekender bag, or small suitcase, and you're done.
Really? I hear you asking. That simple? What if you end up forgetting something crucial?
You won't have any problems if you follow a schedule, a list of essentials, and organized travel advice. The best way for any traveler to deal with concerns about excess baggage is to travel light and wisely. Here are some tips you can follow to ensure you have a memorable trip. 
Start With the Basics 
The general rule for packing is that no matter how much room you have, it will get filled. For most of us, this entails packing a ton of extra stuff "just in case." The best course of action is to limit your room for error. Choose the tiniest bag you can and fill it to the brim. 
Some luggage options you have are a roller bag, backpack, weekender, or duffel bag. Each of these bags has its pros and cons, and the one you choose depends on different factors such as the trip duration, the type of clothes you mean to take, and convenience. 
Pick Out Versatile Pieces 
Versatile apparel like women's trousers is what you want to pack essentially as you can mix and match them with almost anything and stay comfortable at the same time. The concept is to make as many outfits as possible out of a small amount of clothing by making the majority of goods wearable with any combination of other items. Here are a couple of tips you can use to ensure this. 
Instead of picking out clothes for days 1, 2, 3, etc., choose clothes that go with one another and give a completely different look when you pair them with other pieces. Some other basics you can take are a white t-shirt, coat, denim skirt, and a pair of your favorite jeans. 

Don't bring along anything that you think you'll only be wearing once because it will just take up space. 

Neutrals such as black, white, denim, and tan will tie your wardrobe together, so don't forget to bring these. To tie it all in, choose a couple of accent colors that go well with the neutrals, and don't forget to go bold with a bit of print. 
Be Smart with Shoes 
Unless you are going to be doing some hardcore workout or have a formal occasion to attend, experts rarely recommend taking more than two pairs of shoes. You'll usually wear your favorite comfortable white sneakers and chic leather sandals everywhere you go.
Please consider carefully if you genuinely need heels before putting them in. In addition to being uncomfortable, heels are also weighty that take up much space in your luggage for only one or two wears, on average. When picking out shoes, remember to make sure they are comfortable. If you have bought something new, wear it around the house a couple of times to make sure they don't hurt your feet while you walk. 
Accessorize To Your Heart's Content 
Overpacking is only beneficial when it comes to accessories. A travel capsule wardrobe might get monotonous without the correct accessories to spice things up. These accessories can make or break your looks! Bring fantastic statement earrings, adorable headbands, scarves, floppy hats, and whatever else you can think of. Besides jewelry, you'll also need to consider bringing more than one small bag, or you'll risk getting bored of it from appearing in every shot you take. 
Pack It in Right  
A common misconception regarding women's clothing, in general, is that they have to take up a lot of space. However, the truth is, if you're picking out the right fabric, it shouldn't be as hard as that. Anything big or heavy, like a coat or a pair of sneakers, should be on you rather than in your luggage. Make sure to pack as lightly as you can to maximize luggage space. Here are a couple of things you should keep in mind when packing. 
Look into compression packs or packing cubes for maximum space and organization

Don't be afraid of lightweight fabrics or silks because you won't have time to iron. Instead, pack these in and take them to the shower when you want to wear them; the shower steam will do the job for you. 

Unless you're going to the Artic or somewhere where it's freezing, you shouldn't be adding bulky furs to your luggage.  
Go With Your Gut 
Finally, it is best to go with your gut (one that's informed) when you're planning to pack light for a trip. A couple of additional tips you can use when packing light is. 
Experts recommend rolling your clothes instead of folding and stacking them on top of each other. 

Depending on your trip duration, you should take travel-sized

shampoo

, conditioner, moisturizer, etc. Go to any departmental store or beauty counter and ask for a travel pack of your favorite cosmetics, and the salesperson is more than likely to oblige. 

If you're finding it difficult to get the actual product, you can always buy a couple of travel-size bottles and dump your essentials in there to avoid the hassle of carrying bulky containers. 
Final Thoughts
Hope these packing tips help you create a fantastic capsule travel wardrobe that's not just comfortable to be in but also makes you look like a million bucks when you take pictures for the Gram.