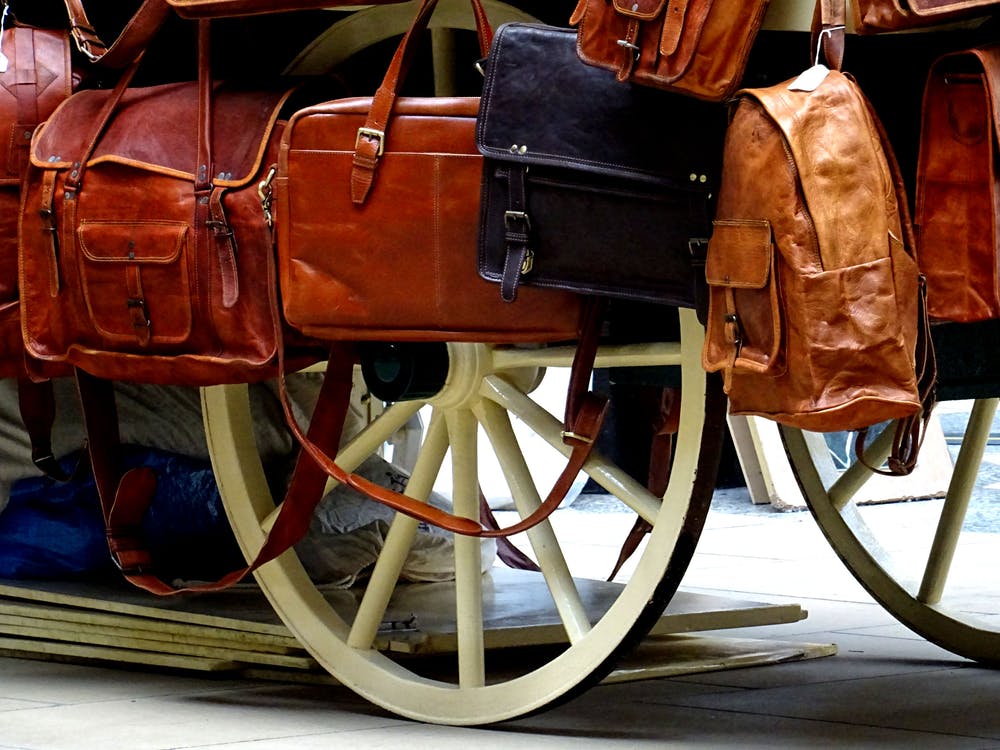 Given the vast selection of leather items available today, finding the perfect leather handbags for the leading lady in your life can be a daunting task. The alternatives can be overwhelming when there are so many factors to consider, such as size, style, function, pricing, color, finish, and more. Don't panic! If this is your first time shopping for a women's leather handbag, allow us to make your shopping experience unique and pleasurable. Here is a list of all the things you need to look for while choosing a leather handbag for your woman.
Functionality
A bag's primary purpose is to provide its owner with a convenient storage solution for when they are on the go. Leather bags come in various shapes and sizes, depending on their intended usage. From satchels for transporting laptops and books to classic travel bags for all your belongings for a weekend away, leather bags come in various forms and sizes to serve different purposes.
Not only is the bag's overall size important, but other features like removable shoulder straps, handy side pockets, concealed interior compartments, or adjustable buckles for greater security must also be considered. These characteristics are especially significant when picking a leather bag.
If your woman works in an office, it is a good idea to treat her to a leather laptop bag because not only will it be able to accommodate her essential belongings like her laptop and accompanying files, but it will also be able to house other items needed on the daily like her wallet, keys, makeup, etc. Similarly, if you want to get your partner a bag that is small and compact, a small leather satchel bag is a good pick. Find a bag that you know will come to good use. It doesn't hurt to play it safe with a leather tote bag if you are still confused.
Size
The size of a leather bag is determined by its intended function as well as personal desire. Duffle bags and weekender bags are large enough to serve as overnight bags or carry-on luggage, while smaller backpack and messenger bags are ideal for people who wish to travel light and keep their belongings to a minimum. For more special events, most women prefer to carry leather clutch bags. It is prudent to invest in a leather bag that serves her everyday requirements in terms of size.
Price
Leather has always demanded a premium price. It is one of the world's most sought-after materials, so a hefty price tag is expected. That said, leather is worth the investment because it is incredibly versatile, supremely, and beyond beautiful. The price of any leather good is influenced by criteria such as quality, finish, and size. The better the quality, feel, finish, and size, the pricier it will be. If you are on the lookout for a bag that will last you for years to come, a leather bag is worth every penny.
Longevity
Professionally constructed bags generally use premium quality leather designed to endure the wear and tear of everyday use. Over time, leather's natural suppleness develops a worn look, giving it an unmistakable vintage aesthetic that never goes out of style. So, if you think about it, leather only gets better with time. Be sure to invest money in a bag that uses good quality leather because you can bet it will age well like fine wine.
Style
Of course, the style of any individual bag is a very personal choice. While a classic satchel bag may appeal to the more conventional consumer, those who choose to be a little more experimental with their looks may be drawn to a modern backpack or a bucket bag to complete their everyday look. We always recommend opting for a bag style that personifies timeless elegance and robust sophistication. You want to invest in a bag style that will age well with time. Sure, trends are fun, but it is best to play it safe with the classics when it comes to leather bags. You can never go wrong with something like a timeless leather tote bag.
Finish
No two cuts of leather are the same. Leather is an organic material; therefore, it requires a fair bit of care. It is prudent to care for your leather bag on a regular basis because that would add to its life. Dust it with a dry cloth or invest in a specialized cleaning product for added protection. Be sure to treat it with some conditioner from time to time as it prevents leather from cracking.
Strength
Each bag is meant to withstand daily usage and stand up to ordinary wear and tear. There are certain things that ensure a bag's strength. For starters, you must ensure that the quality of the leather of nothing less than premium. The better the leather quality, the stronger and more resistant to wear and tear it shall be. Next, look for sturdy handles. You cannot expect your bag to handle any weight if it has weak handles. Finally, craftsmanship. You can tell a well-made bag apart from a janky one simply by looking at its stitching and finishing. You want to spend your hard-earned cash on something that is properly lined and finished, so take your time when you make your selection.
Color
Leather handbags for women come in a variety of colors. Everyone has a favorite color or a color that they wear more than others. If you are getting a bag for your partner, be sure to get it in a color that you know they will love and use. Neutrals like black, mahogany, antique brown, and cognac are a tried and tested safe bet. However, if your partner loves color, buy the brightest and boldest bag in the room because nothing makes a statement like a colorful bag. Find an accessory that will complement their style.
Parting Thoughts
Bags are an essential accessory, and if you are getting the heroine of your life a bag, we promise you, it will add some major points to your profile. Be sure to look for these 8 essential features in any bag before you swipe that credit card. Treat your S.O. to the bag of her dreams because she deserves it!