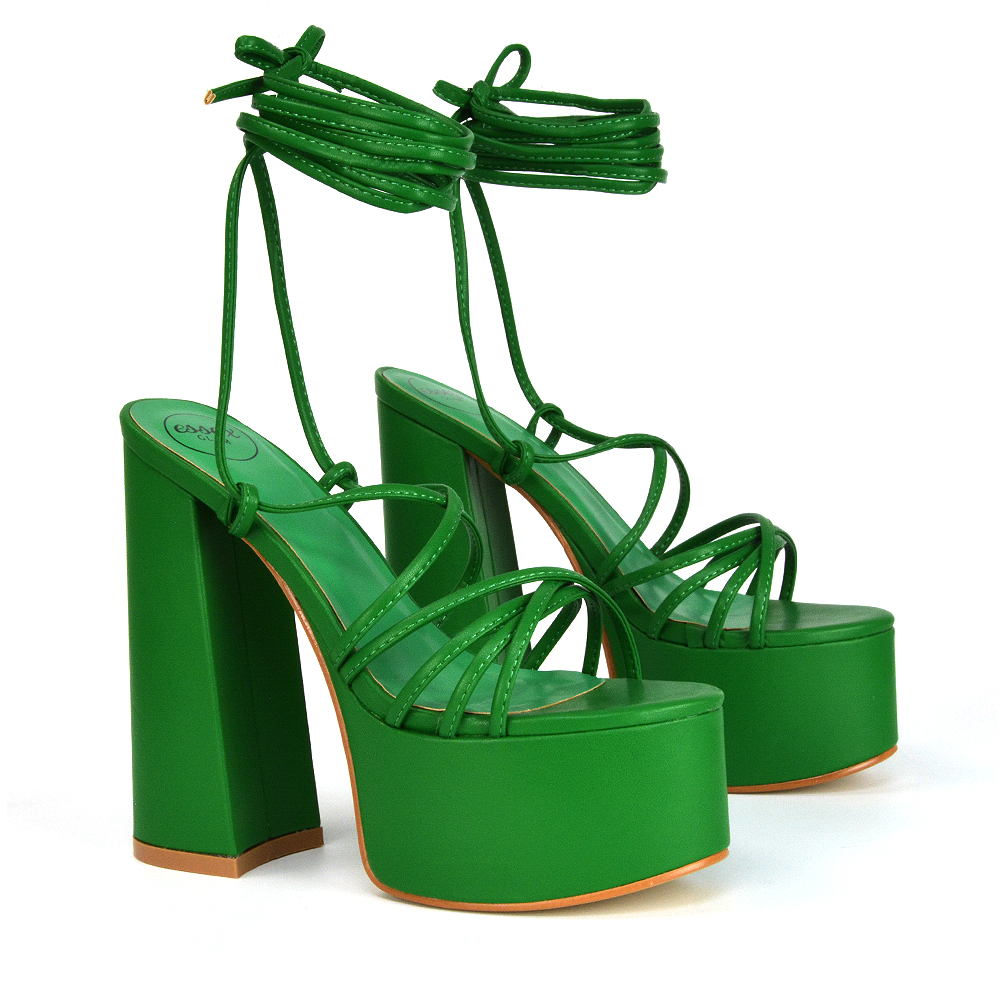 The Green Heel trend has blown up on the runway for Spring Summer 2022, all bright colours are currently booming but everyone is going especially mad for green. You may be surprised to discover that a pair of green heels go with more outfits than what you think! Green shoes can either be the main attraction to your outfit, by adding a pop of colour to a black or white dress, or a colour clash – for example you could team green lace up heels with blue patterned flared trousers, a green top, and mini blue clutch bag.
This trend is so wearable, XY London has a variety of runway-inspired green heels which includes the Lace Up Heel trend that is here to stay for Spring Summer 2022. You must try on a pair of green heels If you think this trend is too out there for you, you may just fall in love. No matter the shoe style, the colour green will bring almost any outfit to life.
Green Square Toe Lace Up Heels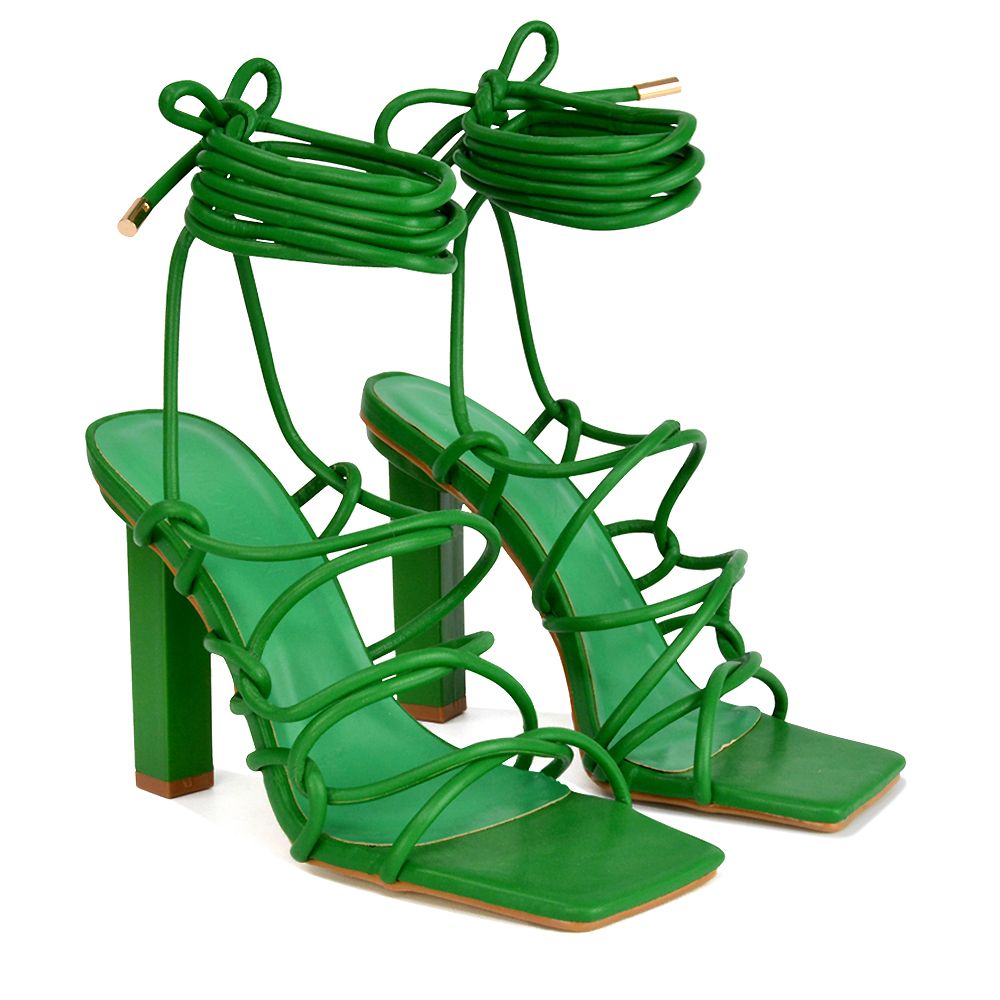 The Lace Up Heel trend is booming for Spring Summer 2022, this is great news for ladies who love a bit of sass. Green block heels with lace up details is a winning combination, the perfect way to add spice to your look. Another feature that is currently on trend is ornate heels, a high square block heel is a hot look fora true fashionista. Jolene lace up sandals have criss-cross laces across the front of the foot, with laces that can be tied around the ankle or up the leg for even more spice.  A square toe will add an edgy vibe to your outfit, style with a patterned sarong skirt and halter neck crop top for a look that's holiday ready.
Green Heel Mules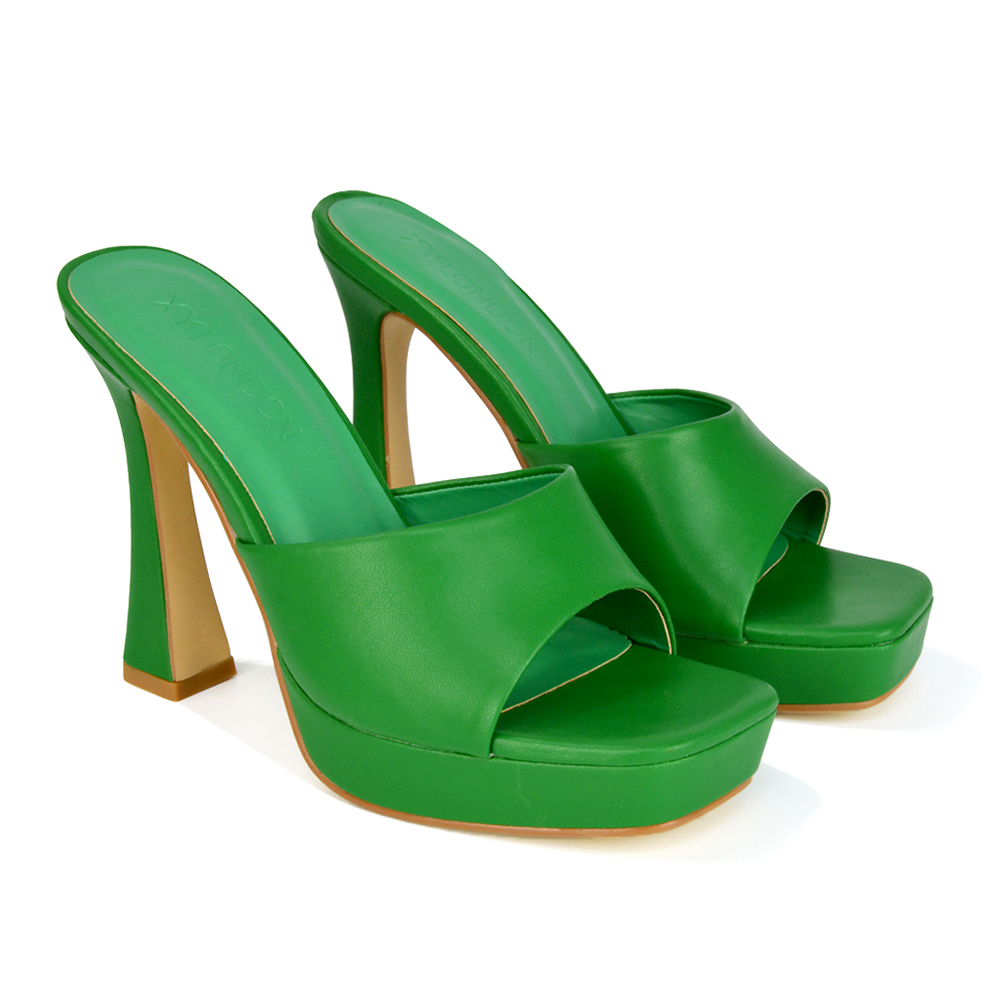 Green Mule Heels are the way forward, their minimalist style means they can be paired with practically any outfit. There's no easier heel style to wear than mules, just step into them and off you go. If you're breaking some wild moves on the dance floor, simply kick off and let the head spinning commence! If you want to go for a high heel mule, just ensure you choose a style with a platform like Anita platform high heel mules. In your head if you minus the platform measurement from the heel measurement, this will give you the height the shoes will feel on your feet. To create some serious fire, style green mules with a pair of linen cropped flared trousers and mesh top.
Green Platform Lace Up Heel Shoes
The strappy barely there look as been big on the runway for Spring Summer 2022, combine this trend with a Lace Up Heel style in green and you've nailed it. The beauty of heels with laces is you have the ability to adjust the level of sass – if you want full sass then the higher up the leg, and for less sass just go lower or around the ankle over lapping the laces. Melrose platform heels not only have elegant thin straps with laces, but they also feature an elegant toe post which finishes off the look to perfection. The flared heel trend has not only been huge on the runway for Spring Summer 2022, it has blown up on Instagram with all the top influencers wearing this hot AF style. Team these stunning green heels with a ruffled patterned micro mini skirt, and strappy knitted top for a look that's ready to hit the bars.
Green Fluffy Heels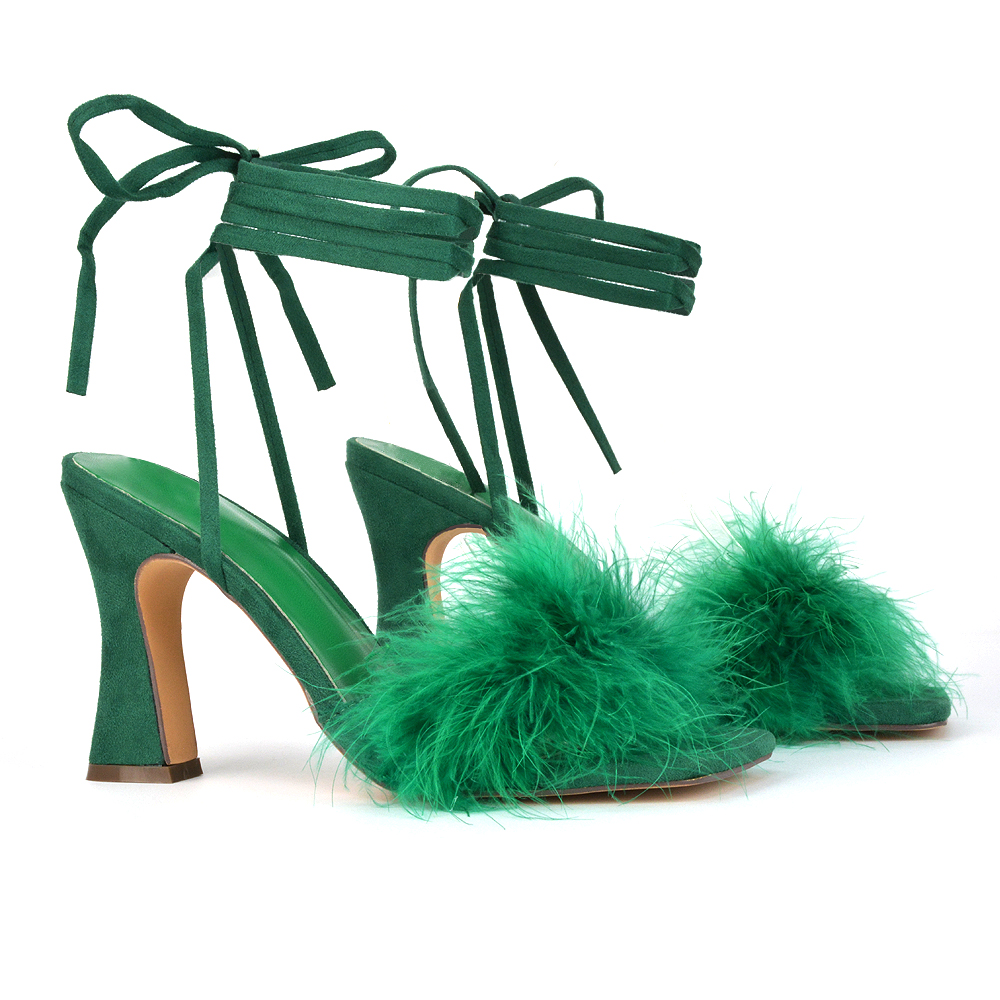 The fluffy heel and Green Heel trends are both not to be missed! Fluffy heels can be super dainty, and by going green this will add some edgy vibes to the equation. Lovelyn fluffy shoes in green are the ultimate wedding guest heels, the shape of the faux suede laces mimics the appearance of ribbon which gives a super elegant feel. A flared mid block heel is perfect if you're going to spend a lot of time on your feet, they're not only comfy but also a top trending feature for Spring Summer 2022. Style your green heels with a strappy low plunge pleated midi dress in orange, and complete with a green and orange fascinator – this colour clash will be the dream wedding guest look for 2022.
Green Strappy Lace Up Platform Heels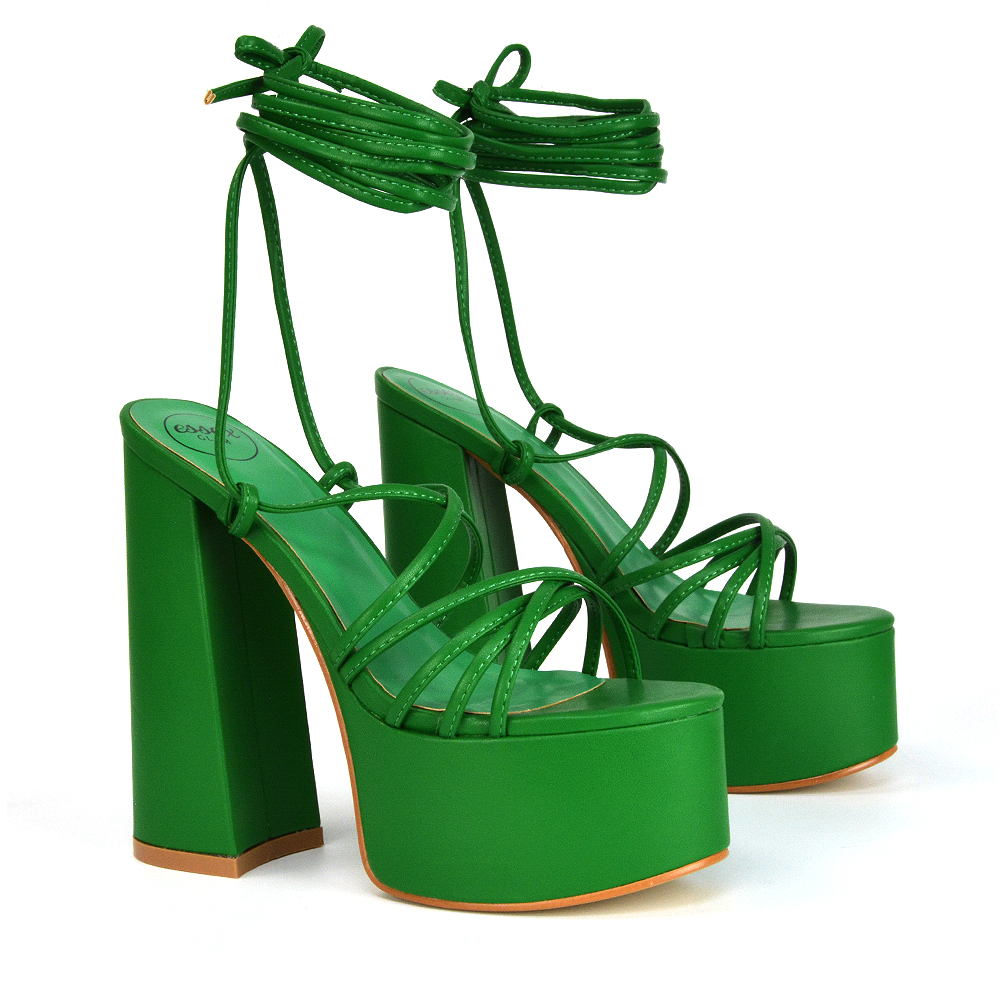 If you're a serious fashionista, you'll know that the retro inspired platform trend has blown up in 2022. There's no better way to wear the platform trend for summer, green platforms teamed with lace ups create the perfect holiday night out shoe. The chunky heel vibe is another trend that has been huge on the runway for Spring Summer 2022, go for barely there thin straps to create a winning look. Style your green sky high platform heels with a pair of wide leg linen trousers, and strappy satin crop top, this look will be your go-to brunching with the girls outfit.