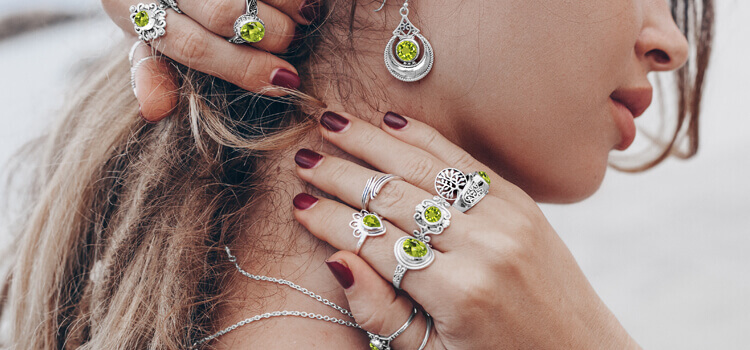 Gemstone Rings have become one of the most popular accessories to style with in today's jewelry fashion. The variety that ranges from small and elegant pieces of adornments to the big chunky statement rings with cocktail-sized crystals can ace your personality instantly. However, rings are not just restricted to being a mere fashion accessory; they carry a deeper significance and meaning for a long time. 
People cherish rings as their engagement band to make a commitment for life, or they are even used as promise rings between close friends to celebrate their bond forever. Even today, people wear Silver Gemstone Rings as Birthstone Jewelry to experience and treasure the alluring healing properties of multiple gemstones. If you have also considered including a particular gemstone ring for yourself, we have made a list of 10 silver Gemstone Rings for Women that can help you not just glam up your look but also treasure the true essence of the colorful crystals. 
Amethyst Rings
Sterling Silver Amethyst Rings have been running in the trend for a long time. People admire their intense purple color, which is quite rare to spot. You can dazzle up your simple-looking attires by accenting them with a fine piece of Amethyst Ring. If you are someone who carries an outgoing personality and love their jewels in all glory and shine, this gem is sure to win your heart. Try and pair it up with classic 18kt gold vermeil to enhance its appeal and bring a vintage glow to your accessory. 
Citrine Rings
Another vibrant accessory is Citrine Jewelry which carries warm tones like a sunray on dark days. You can flaunt its alluring orange-yellow glow on your hands with an exquisite design of Citrine Ring. The accessory is perfect for carrying for an outing or traveling as its striking color texture instantly catches up with the onlooker's attention. The ring is modern and unique, making you remain in the limelight.   
Garnet Rings
Speak of luxury, and you can never miss Garnet Jewelry on the list. The gem's bold, bright, and intense red tones look absolutely stunning and hold a drool-worthy charm. So, if you are also a fan of chic pieces, get yourself a piece of Garnet Ring to slay your style with class. Layer it with other shining accessories, and you will set the trend charts on fire. It is one of those accessories that will literally go with everything and is apt to carry on every occasion. 
Tanzanite Rings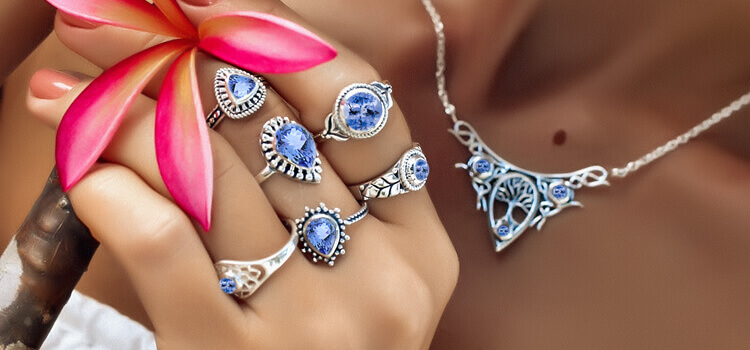 If you have been searching for something rare and precious to celebrate your unique self, you have landed on the right page. Tanzanite Rings are one such beauty that is rarer than diamonds while going much easier on your pocket simultaneously. So do not miss your chance to get yourself something this special and pick a dazzler now. 
Swiss Blue Topaz Rings 
Swiss Blue Topaz Rings are great trendsetters in themselves. The glamorous blue shades of the ring enchant anyone with its elegance. This little sparkler will help elevate your look at the workplace and casual events. The crystal's subtle yet classy blue shade looks absolutely stunning when worn on your finger set in pure 925 Sterling Silver Jewelry. So carry it on special occasions when you want to attract the right kind of attention, such as corporate meetings and events. 
Moonstone Rings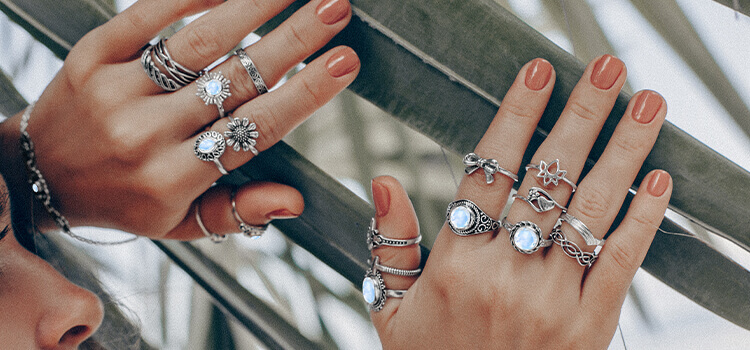 Moonstone Rings have been spreading their Moon Magic for a long time and hold great historical significance. Even today, its icy blue sheen never fails to amaze jewelry lovers worldwide. You can choose it to make your life magical or gift it to someone close. 
Peridot Rings
We heard you were looking for glamorous jewelry to flaunt the stylish in you. So let us unveil the curtains and present the Peridot Ring with a pleasing natural green shade and a hint of golden glow. The gem is bold, edgy, and statement-making, which will help you style yourself properly. The ring is sure to stand out and commands all the attention on itself. 
Rose Quartz Rings
Give the peeps something to gossip about and indulge in the elegant, feminine energy of Rose Quartz Ring. Its pale pink tones resemble the rose's soft petals and add a blush to your appearance. You can easily carry it regularly and flaunt the pink radiance confidently, even on dull days. 
Opal Rings
Opal Ring is one of the most versatile choices in gemstone rings, which spreads its VIBGYOR charm everywhere. The kaleidoscopic beauty of the gem is something to steal and savor in your jewelry box—upscale your style by getting yourself this amazing dazzler. 
Cubic Zirconia Rings 
Want to shine in the classy beauty of diamonds but are restricted on a budget? Don't worry, pretty lady; we have covered you with our unique Cubic Zirconia Ring. These are the masters of imitating diamond-like shine and see-through clarity while keeping your budget and spending in check. So, what are you waiting for? Flatter everyone with a beautiful piece of Cubic Zirconia on your hands. 
Looking for a perfect place to purchase all these beauties? Explore the trending Gemstone Jewelry Collection at Sagacia Jewelry.