Choosing and buying an engagement ring for your partner is one of the most important purchases you will ever make and it can feel like a lot of pressure trying to get it right. Don't worry, we understand and are here to help you with our guide to choosing the perfect engagement ring for your partner! From knowing your partner's ring size to choosing the perfect metal, gemstone and style, we will be supporting you every step of the way. So, sit back, relax and prepare to feel more confident when you buy the engagement ring!
Find Out Their Ring Size
When you propose, it would be amazing if the ring fits absolutely perfectly. Whilst this doesn't always happen, and often alterations will be needed, it is best to find out their ring size beforehand so that your partner can start wearing and enjoying the ring as soon as you propose. 
The first thing you can do is to ask friends and family that you know you can trust not to tell your partner. If you can't do this, then for a few months before the purchase, keep an eye on which rings your partner wears and on which finger. If they regularly wear a particular ring on their ring finger, then try to sneakily take the ring to a jeweller who will be able to tell you the ring size and place it back exactly where it was. This is a cunning way to find out the ring size as long as you can pull it off! 
Another thing you could do is to buy a cheaper dress ring for their birthday and try that for size, if you already have an idea of what size they might need. If you really can't find out the ring size, it is best to go with a ring that is slightly larger than you think they will need and then it will be easier to resize it at a later date. 
Choose An Era
Once you have a vague idea of the size, it's time to choose an era! Most people choose a 21st century ring for their partner, however you should definitely consider vintage engagement rings too. These rings all have a story behind them from the time they were crafted until now and there is something really romantic about continuing the story with your loved one.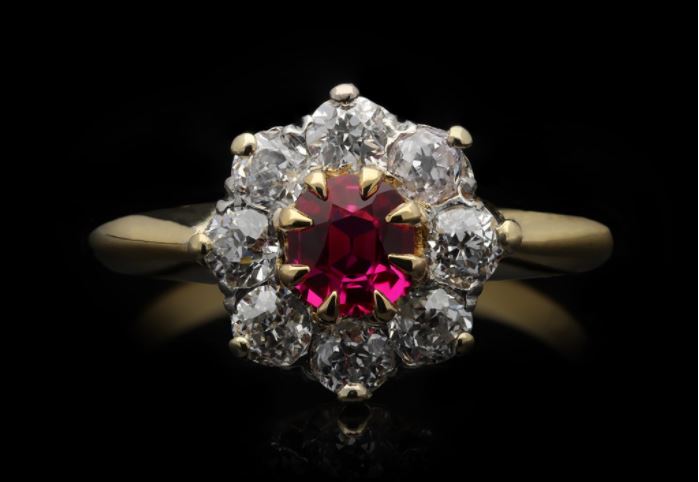 Vintage engagement rings will also have been hand-crafted, resulting in unparalleled craftsmanship and intrinsic character that is hard to find in modern engagement rings. Not only this, but you get much better value for money with vintage jewellery. As vintage jewellery will have been bought and owned before, it is VAT exempt, meaning you don't need to pay tax on it as you would with normal jewellery. So, you can get a vintage ring that is the same quality with the same size gemstone, for 20% cheaper! 
If your partner is a lover of all things unique, go vintage! The Art Deco and Victorian eras are especially popular when it comes to vintage engagement rings, with a sophisticated and timeless quality that is hard not to love. 
Choose The Metal
Now that you have chosen your era, it's time to choose the type of metal! The most popular choices when it comes to metal for engagement rings are gold or platinum. Platinum is a very popular choice, as it is very bright and shiny, which also brings the gemstone to life. Silver used to be popular, but it is considered a softer metal than platinum and therefore less durable, So, out of silver and platinum, you'd want to go for platinum.
Gold is a classic choice that is absolutely timeless, looking stunning with a wide range of different gemstones. There are so many beautiful options when it comes to gold as well, from white gold to yellow gold, giving you plenty of different options!
Choose The Gemstone
Finally, it's time to choose the gemstone. The most common and popular choice is of course the diamond, offering a traditional look. For something a bit different, experiment with a unique cut of diamond, creating a wonderful combination of tradition and differentiation. 
Reads More: Jewelry Making – Blending Gemstone with Prehnite Jewellery Design
To put a real twist on traditional diamonds, go for a coloured diamond. These are more rare and therefore more expensive, however if it is within your budget, they make a beautiful choice. Diamonds can come in a wide range of colours, including pink, purple, green and blue. So, coloured diamonds should be considered for something a bit different! 
Aside from these choices, the other precious gemstones are emeralds, rubies and sapphires. If you choose any that are non-precious, they are likely to be much less durable, which isn't ideal considering an engagement ring will be worn everyday. So, stick to one of the main precious gemstones! 
Rubies, sapphires and emeralds are all absolutely breathtaking, offering something completely different and unique. Your partner will really stand out from the crowd with one of these gemstones. Vintage sapphire engagement rings are especially popular, as they are known to represent longevity and good health. If you know your partner's favourite colour, choosing one of these gemstones instead of a diamond can be really personal, making the moment even more special. 
Final Thoughts
So, we hope you are now feeling more confident when it comes to choosing the perfect engagement ring from your partner! Don't forget to ask for advice from family you can trust and also your jeweller, as they are experts. If you're ever in doubt, just ask yourself whether you can imagine proposing with that ring and everything will become that bit more clear.