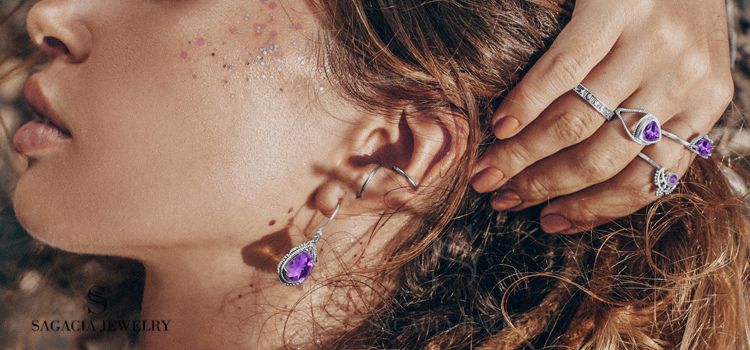 The demand for natural colored stones has boosted expeditiously with a handful of vibrant colors to flaunt on any occasion. Jewelry enthusiasts love to allure people with the fascinating colors at multiple events. As the love for color pop grew fonder, people began chasing the intense colored gemstones to a great extent. One such exotic crystal holds the position of being the most famous purple crystal across the globe. Yes, we are talking about none other than our vibrant Amethyst Gemstone. The crystal is rich in violet-purple hues that instantly make any wearer a queen. The timeless appearance of our shining knight in Armour is the perfect go-to option to bring out both a bold and graceful look. So get ready to turn plenty of heads with a violaceous glow that makes you stand out from the rest.
Amethyst Meaning and Benefits
The Natural Amethyst Gemstone is not just adorned for its physical charm, but holds various meanings and metaphysical properties associated with it. It is prized with the tag of the February Birthstone and bores multiple healing properties that help the February-born babies in their personal growth and success. Amethyst February Birthstone Jewelry is valued for its staggering excellence that carries the energy of fire, love, creativity, spirituality, and balancing sobriety. Amethyst's Meaning is hidden behind its name that, reflects not intoxicated, soberness, and not drunk. Since ancient times, people have believed that Amethyst's Benefits include keeping its wearer in a perfect state of mind and helping them make critical decisions to the best of their capabilities.
By sustaining well-balanced thoughts and mindset, you can take out the best from an individual. Don the royal purple hues of the February Birthstone Amethyst and eradicate all negativity and stress from your life. Apart from that, you can treasure the jewel to make up a perfect Valentine's Day Gift for your partner. As the month brings lots of love and romantic vibes, gifting the jewelry studded with such a passionate-hued gem will help you communicate your feelings to your loved ones effectively. And if your partner is a February born, consider yourself lucky because you just found the Perfect Gift for Special One. Pamper your special one with their Amethyst Birthstone Jewelry, which makes a meaningful gift.
Ace Up With Amethyst Jewelry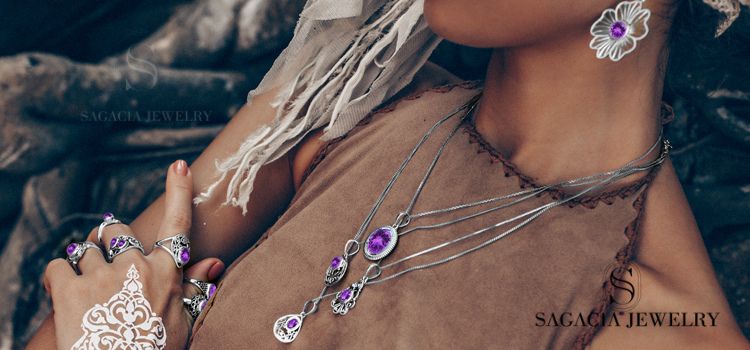 Amethyst Jewelry is an iconic option for all those seeking royalty and boldness simultaneously. It accentuates any attire with its powerful vibes and is why everyone should incorporate it into their jewelry boxes. Furthermore, since the gem is decently priced and is valued primarily by the quality of its color, you can score a heftily-sized Gemstone Jewelry for a price that suits your pocket. Here are a few ways to treasure the natural violet beauty in the most appropriate manner.
Chic-Style Earrings
Amethyst Earrings are a true adornment that quickly lifts up your face and adds a glamorous glow. Frame your face with two petite plum-colored beauties and accent your earlobes in the most stylish way possible. You can find some of the most intricate designs of Amethyst Earrings at Sagacia Jewelry that are truly designed to win your hearts. The delicate style is crafted to suit your unique lifestyle and different occasions. You can style these earrings with other gemstone jewelry such as Opal Jewelry and easily amplify the overall radiance it brings to your personality. Let the mauve beauty sparkle with your smile on your face.
Engagement Rings
Amethyst looks stunning when used in the form of Amethyst Engagement Rings. Reflecting passion and intense emotions in their every tone, they are a perfect choice to communicate your feelings to your life partner. So get a confident yes with the gem of confidence and express your love in the most exotic way possible. You can choose 18kt gold vermeil as your metal to complement your ring well with the perfect design. This will add volume to your accessory and reflect the true vibes of commitment towards your partner. You can find some of the best designs of Amethyst Ring at Sagacia Jewelry.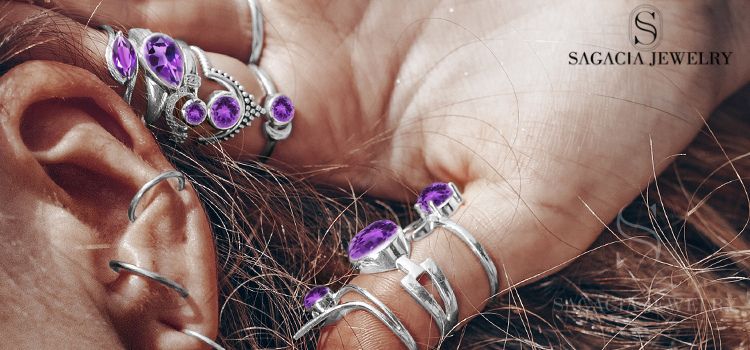 Cocktail Necklaces
Embrace the much-needed classy cocktail look with a vibrant piece of Amethyst Necklace on your neckline. The simplest design of the necklace studded with this dark-hued gem instantly brings volume and timeless allure to your look. Explore a multitude of designs of Amethyst Necklace at Sagacia Jewelry that suits your collarbone well.
Classy Bracelets
Amethyst Bracelets are the right type of accessory that you can easily carry on any occasion, whether a corporate event or any other occasional party. Accent your work wear and informal party outfits with a beautiful piece of Amethyst Bracelet. You can explore some of the handiest designs of Amethyst Bracelets at Sagacia Jewelry.
Conclusion
Deck up your digits with a beautiful piece of Amethyst Jewelry or two or three, and punctuate every gesture with lavender. Stack up a beautiful collection of this lilac crystal and style your personality with a minimalist or elegant design. You can choose 925 Sterling Silver Jewelry for your daily wear, accessories as it is durable enough to stay protected from everyday scratches. Get your favorite piece today.