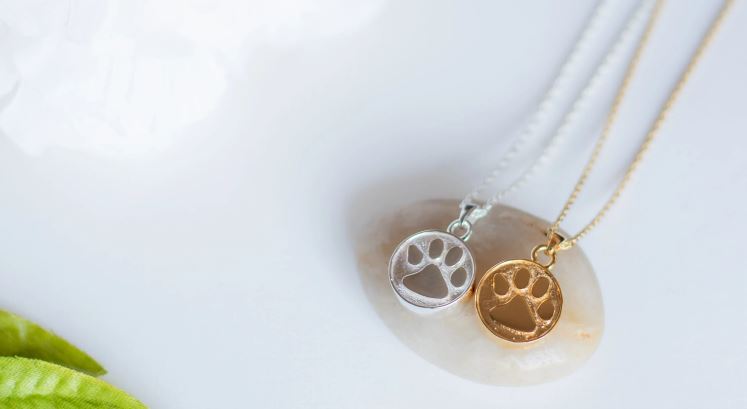 Our pets are essential parts of our lives. They are our loyal companions, beloved friends, and devoted children. They love us beyond words, and no one can explain the tremendous pain we feel in our hearts when they leave us. 
We would be willing to pay any price if only they could be with us in our lifetime, but we know that is impossible. But don't worry – there is another way by which we can keep them close to us, and that is through cremation jewelry. 
What Are the Different Types of Pet Cremation Jewelry?
Choosing what pet cremation jewelry to get can be overwhelming, especially if the loss is still fresh. Know that cremation jewelry comes in many forms: necklace and pendants, bracelets, earrings, and rings. Let's take a look at them one by one.
1. Cremation Necklaces and Pendants
A jeweler can incorporate your beloved pet's solidified ashes or hair into a cremation necklace or pendant. These jewelry pieces are carefully handcrafted with the highest quality sterling silver or gold. 
You can choose from different exquisite designs available or have a custom-made one, where you can opt for a personalized memorial engraving of your pet's name, image, or paw.  With these unique necklaces and pendants, you can keep your loyal companion close to your heart- always and forever. 
2. Cremation Bracelets
If you want something more dainty and small, you can opt for cremation bracelets. You wear a bracelet against your pulse, which echoes our heartbeats. By wearing a part of your pet near your pulse, you are letting them know how much your heart beats for them and how deeply you love them. 
3. Cremation Earrings
In some cultures, earrings mean living together. When you turn some of your pet's remains into earrings, you value the time you spent living together and the memories you have created. 
Aside from that, when you gift a pair of earrings to someone, you give them protection from every harm. So, having earrings with your pet's ashes can tell that they are always there to safeguard you from anything wrong. 
4. Cremation Rings
A small circular band on your finger can hold enormous meanings, especially if it has your pet's remains inside. A cremation ring signifies companionship through time – a perfect representation of the bond you have forged with your pet. 
How to Get a Pet Cremation Jewelry
Getting pet cremation jewelry is simple. Choose a trusted jeweler that offers memorial jewelry and select the type of cremation jewelry that you want, or ask them for a customized design with personalized engraving. 
The jeweler will then inform you how to ship your pet's remnants to them, and you should allow them time to make the jewelry as they pour their utmost efforts into making it unique and last a lifetime. Customized jewelry pieces take more time than ready-made designs. After crafting the pet cremation jewelry, they will send it to you, and all you have to do is wait for them to arrive.