Buying jewelry can be a tricky proposition, particularly when you want to purchase meaningful jewelry gifts for her but a proposal isn't in the forecast anytime soon. After all, there are birthdays, anniversaries, holidays and other memorable milestones where jewelry is a great gift — and you don't even have to bend down on one knee to give it to your significant other. 
Here's what you need to know about purchasing jewelry that says "I like you," "I love you," "I want to spend the rest of my life with you… eventually" or simply "I really enjoy spending time with you." 
Jewelry As A Symbol of Love 
Ah, romance. The thing that hits you right in the feels, makes you want to write songs about your love, take an Insta-worthy vacation to Europe and just generally sweep them off their feet. Since the beginning of time, jewelry has been associated with the language of love. Ancient Greeks engraved images of Aphrodite, goddess of love, onto rings. Romans created brooches depicting Cupid as a token of their affection. Ancient Egyptians created serpentine rings symbolizing eternal commitment. 
Gemstones — whether rich sapphires, fiery garnets or deep amethyst — gained plenty of popularity in rings, necklaces, earrings and pins of the 1700s and 1800s, and women even had their hair secreted away in a jewelry memento to give to a husband or lover.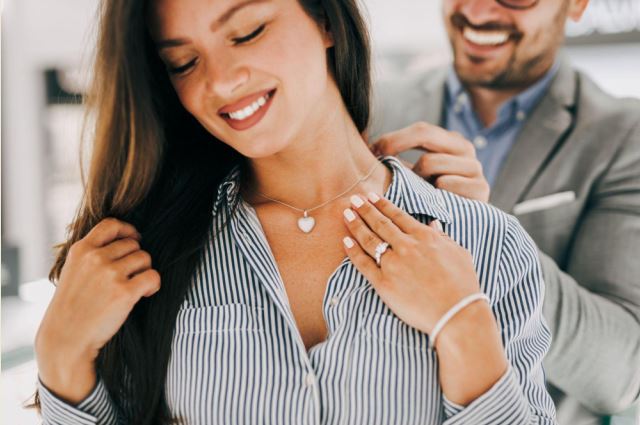 Occasions for Jewelry Gift Giving
Fortunately, you don't have to cut a lock of hair off to add to a piece of meaningful jewelry anymore. There are plenty of occasions to give a token of affection to the one you love: 
Valentine's Day 

Birthdays

Anniversary 

Commemoration of a graduation, new job or promotion

Mother's Day or Father's Day, if your significant other has a child 

Sympathy or memorial piece for someone grieving the loss of a friend, family member or pet 

Christmas or Hanukkah 

Just because 

As a thank you 

As a promise of a proposal or a long-term commitment 

As a good luck gift 
Types of Jewelry Gifts 
When choosing jewelry gifts for her or meaningful options for him, you'll want to keep the occasion in mind. If, for example, you're commemorating a first job or a promotion, you might select a piece of jewelry they can wear every day, like a classic watch that matches their work wardrobe. A pair of diamond earrings works well as an anniversary gift, and a gemstone bracelet or necklace can complement a piece of jewelry they typically wear. If you're trying to convey your commitment, a promise ring is a winning proposition. To surprise them on their birthday, go with a jewelry set of matching earrings, bracelets, and necklaces. 
Choosing the Right Jewelry Gift 
You know your occasion, and you have some ideas on the type of "I love you" jewelry piece you want to purchase, but how do you select something that speaks to her soul and resonates with your relationship? Here are a few pointers: 
Consider their personal style.

If she's quirky, has an eclectic collection of vintage items in her home and cherishes the nostalgic, choose a vintage-style promise ring or Art Deco earrings that she'll wear again and again. 

Look at metals.

Her everyday jewelry includes a minimalist necklace with a delicate silver chain and small diamond. Or maybe she typically wears yellow gold earrings to work or to class. When picking out a piece of jewelry, choose a metal tone she prefers. 

Think timeless

. When in doubt, stick to something safe that's versatile and anyone would love. No one is going to say "no thanks" to a diamond bracelet or necklace. 

Poll her friends and family.

Not sure if she's going to like a gold and emerald ring? Ask those closest to her for advice. 

Go custom. Up the ante on jewelry gift giving. Consider adding a small inscription inside a promise ring, have your anniversary date engraved on a bracelet, or monogram a locket with her initials. 
Affordable Yet Meaningful Jewelry Gifts 
You don't have to break the bank or bust your budget to find meaningful jewelry gifts for a girlfriend (or any significant other, for that matter). Whether you plan to spend $20 or $200, there are plenty of affordable options in your price range that will be as treasured as a diamond ring. 
Give her a bracelet charm that she can add to her collection over time. Maybe it's something that commemorates a beach trip you took, a first date or a hobby. 

Find a simple pair of stud earrings or a necklace with her birthstone. Gemstones and pearls are much more affordable than diamonds. 

Wrap up a pendant necklace with her initials, or include a meaningful phrase like "love" or "I love you." 

Convey your intentions with a promise ring for her. You can find exquisite, affordable rings in the $100 range. 

Get creative! Even with a budget of $10, you can make her a friendship bracelet, a beaded necklace or clay earrings. She'll appreciate the sentiment, and you get bonus points for time and effort. 
High-End Jewelry Gifts 
If you do have money to spend, however, you can find stunning jewelry gifts for her — without proposing — at a range of higher price points. 
Surprise her with a tennis bracelet featuring a row of brilliant diamonds. 

Give the gift of diamond earrings — always a winner. Select from a range of sophisticated studs or more ornate designs, depending on her personal style. 

Say "I love you" with a classic timepiece she can wear to work every day. 

Give her a jewelry set — a strand of pearls with a matching bracelet and earrings. 

Design a custom piece of jewelry that encompasses your love and affection for her. 
Communicating Your Intentions 
There are plenty of ways to say "you're the love of my life" or "I really care for you and see our relationship moving forward." Jewelry is great to convey your emotions to your significant other, but ensure you're also putting the effort into communicating your relationship goals. 
Talk openly about your intentions, and make sure your values and views align with your partner's ideas. That makes a pretty meaningful complement to any jewelry gift.