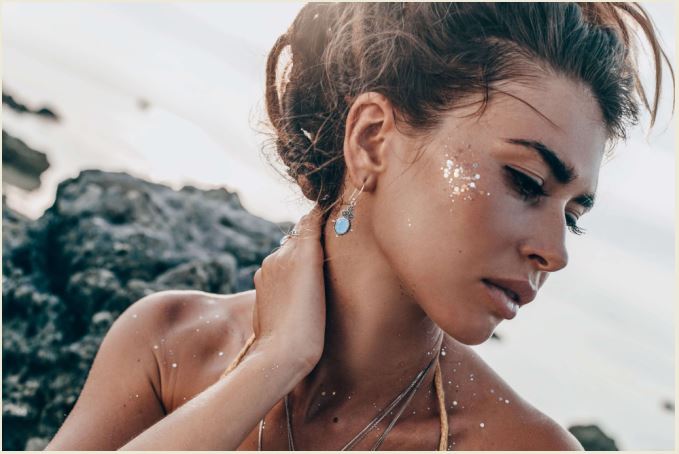 Colorful Gemstone Jewelry
As the hot and cheerful summer season has knocked the doors, you might be wondering "Which Gemstone jewelry should I wore to look astoundingly great and glamorous?" Well, we have got for you 5 Colorful Gemstone Jewelry that help your brighten your summer Wardrobe.
Explore the Bluish Sheen of Aquamarine Jewelry
Well, you might be pondering that which is that factor that makes the bluish aquamarine jewelry, one of the top-most choices for that summer evening?
All the credits for this achievement goes to the classy and cozy vibes that aquamarine emanates.
Adored to be the auspicious birthstone jewelry associated with the month of "March", aquamarine is considered to be an epitome of purity, sanity as well as peace. This miraculous and mystic stone is blessed with the serenity and peacefulness of the divine sea and endless sky. In fact, shining and shimmering aquamarine jewelry looks quite identical to those glaring and playful rays of sun falling on the crystal-clear beauty of the sea or the vast ocean.
Yet another reason that drives many jewelry lovers to go for this stone during summer is that the blue hues of aquamarine jewelry goes out the most brilliant and marvelous way with that summer outfit.
To look the most stunning and mundane for that summer get together party at a beach or an open café, choose those specimens of aquamarine that lends the bluish-green shade. This shade is cited to be the most cheerful and alluring color of aquamarine jewelry.
Just keep in mind that aquamarine is not that much hard and tough that it would withstand extreme pressure or thrust against a rough surface. Handle it with utmost care and concern or else its delicate surface can get chipped off from the edges or can even get break or damaged.
The Cheerfulness of Yellow Sapphire
If price is your main concern, but you are not ready to compromise the elegance and charm of adorning yourself with a fine summer gem, then consider going for a astounding and bright piece of yellow sapphire. You would be indeed feel proud over your choice.
The glowing and sizzling sparkle which adds up to the glowing elegance of this marvelous gemstone, besides its cheerful yellowish hue, makes it one of the top-most preferences during those summer days. And when it's struck by the divine rays of sun, then the view and beauty would be worth appreciating and flaunting over.
Even because of its beauty and brilliance, the gemstone jewelry association proclaimed it as Pantone's Color of the Year of 2021. 
One more reason to adorn this beautiful summer jewelry with immense pride and honor.
Relish The Unique of Tanzanite Jewelry
By far, one of the rarest as well as the most phenomenal gemstones in the world. Tanzanite jewelry would indeed add a touch of elegance and classiness to your attire and personality during those summer days.
And to add a cheery on the cake, its elegant and eye-captivating blue-hue would make you even fall for its mystical beauty.
On that mundane summer outfit, tanzanite jewelry would compel you to flaunt over its beauty. The unparalleled charm and cheerfulness that it carries with itself, drive most of users to go for tanzanite jewelry as the summer season knocks the door.
Even in the year 2002, the Australian Gem Trade Association proclaimed this miraculous gemstone as the December Birthstone.

The Crystal-Clear Beauty of Diamond Jewelry
In the world of gemstones and jewelry, diamond is by far, one of the most precious as well as the most spectacular gems. What tends to be even more eye-captivating is this crystal-clear beauty that glows with unparalleled elegance and timeless shine and shimmer. And when adorned amidst those bright and glaring rays of summer, then its beauty and elegance increase by multi-fold times.
From that glittering and sizzling diamond ring to that highly stupendous and sought-after diamond necklace, every piece of diamond jewelry comes with an assurance to lend the most cheerful beauty to its wearer, which standout the wearer from the crowd. Goes without saying, a sizzling and gleaming diamond pendant could be your perfect companion for a lavishing summer party.
And if you are looking forward to set the stage on fire for a Friday club night, or with any other appealing and alluring outfit, then getting your hands over that diamond necklace carved out in the form of a star, moon or even oval-shaped, would get the job done of you.
No matter which type of attire you are going to select, from that elegant formal attire to that dashing and marvelous party dress, diamond jewelry would leave no stone unturned in adding a touch of grace and glory to your personality.
The Vibrant Colors of Amethyst Jewelry
Do you know that what makes jewelry lovers extremely happy and elated to adorn themselves with amethyst jewelry during summer?
Well, goes without saying, it is the ability of amethyst to add a touch of serenity and cheerfulness to the personality of the wearer.
The myriad colors of amethyst, which are mostly available in shades that range from being lavender to a pale violet and dark blue, lends an fine exclusivity to amethyst jewelry which makes it one of the best choices for summer gemstone jewelry.
A transparent variety of quartz, amethyst jewelry is usually available in transparent variety, which means that when those luminous sun rays strikes the crystal, then its quivering beauty and elegance gets surged up by multi-fold times.
Shop Now For Colorful Gemstone Jewelry
Get high quality gemstone jewelry options, ranging from sterling silver jewelry, to traditionally designed handmade jewelry only from Rananjay Exports.
Author Bio:
This is Aryan, I am a professional SEO Expert & Write for us jewelry blog and submit a guest post on different platforms- Technoohub provides a good opportunity for content writers to submit guest posts on our website. We frequently highlight and tend to showcase guests.