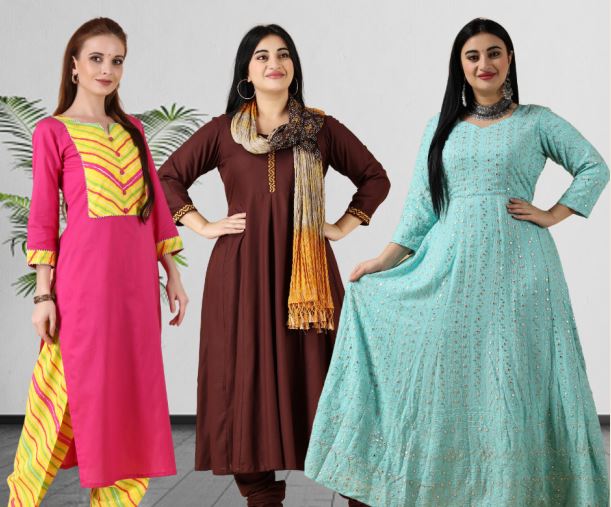 Indian outfits are an expression of Indian cultures and traditions. The Indian traditional garb is a prime key to your happiness. The right Indian outfit can change your own perception of yourself, no matter what size you are. Most of the traditional attires are resourceful and so multiskilled, so you don't have to lay out money on Indian wear every time.
The combination of elegance, grace and comfort is what makes Indian clothing an unbounded set of fashion that is easy on the eye. Indian Fashion designs are the most famous in the world. The designers here are constantly working on updating the designs, patterns and trends for women.
Ethnic wear is one of the most exquisite and intricate attire that you will find worldwide. The Indian outfits are normally adorned with beads, mirrors, sequins and embroidered. This brings out the beauty of these garments. The Indian wear consists of salwar kameez, patiala, dhoti, etc. Each of these beautiful dresses is perfect for the plus size Indian woman.
1. Plus Size Kurti
Kurtis are undoubted, a wardrobe staple as they have the ability to take any basic outfit up a notch. Kurtis to the modern Indian women are office wear outfits. Even when you are not in a mood to suit up for a meeting, wear a floral printed kurta and pair it with palazzos and salwars. We all need a dupatta every time we wear Indian attire whether we as teenagers to middle and old aged women.
2. Salwar Kameez
Your traditional collection is incomplete without a few sets of salwar kameez. They come in many colors, fabrics, patterns and designs. Prints as simple as floral, ikat, hand-block or jaipuri on rayon or cotton fabric set together with matching bottom (salwar/palazzo) and matching earrings will elevate your traditional Indian look. Salwar kameez have been incorporated into the Indian fashion industry for women. Salwar suits are available for all sorts of occasions, workwear, casual gatherings and parties.
3. Patiala Suit Salwar
Traditionally, a punjabi sharara suit is a punjabi grace whereas a salwar is a loose-fitted patiala design and a kameez is usually straight kurta. The waist of the salwar is pleated and cuffed from the ankles. It's mainly divided into full-patialas and semi-patialas and the only difference is that full patiala will have more pleats. Flaunt your elegant and eye captivating look in the latest designer patiala suits for women. Feel the charm and the feeling of being an Indian woman in the most famous traditional and ethnic wear.
4. Punjabi Sharara Suit
A Punjabi sharara suit is a timeless piece of clothing. It's an evergreen and versatile part of Indian grab. The Punjabi sharara suit is the epitome of Indian wear. With unique silhouettes, designs and a graceful aura, it is gaining an edge over its competitors.They have so many patterns, colors, designs and styles. Sharara suits are heavy embroidery Indian suits imparting all the glitz and dazzle. Shine at any party with the vibrant colors of sharara suits.
5. Fancy Designer Suit For Weddings
Choosing the best fancy designer suit to look outstanding and out of the crowd, you must keep in mind a few factors. A wedding is the most colorful occasion so the suit you choose must be of vibrant colors. Dark and bright colors thrill you with a festive mood and you get outshined. Fancy suit with heavy embroidery and embellishments gives you an astonishing look. The fabric also plays its own vital role in an Indian wedding suit. Cotton, rayon, polyester, georgette with heavy zari embroidery, mirror work, chikan work and sequins will make you the star of the wedding ceremony for sure.
6. Patiala Salwar
A salwar can be worn in numerous styles. A patiala salwar fabric is good because it adds volume to the salwar and gives you a heavy look.  A patiala pants a woman and gives a tall and slender appearance. Patiala salwar and straight kurti form a good combination and are in fashion. Patiala salwar looks good for every sort of occasion. A wedding or be it a family gathering.Patiala salwar are always prevalent and trending.
7. Dhoti Salwar
Dhoti salwar is an Indian traditional outfit. As per Indian origin a dhoti is a long, loose garment more like a skirt than a top. The dhoti salwar suit comes in different styles, designs, patterns and fabrics like cotton, rayon or polyester. You can pair it with a short kurti or long kurti.
8. Plus Size Anarkali
Anarkali suits consist of long ankle length or floor length heavily gathered anarkali with churidar. Anarkali suits being the most comfortable ethnic wear that gives a charming decent traditional look are loved and favored by all plus size women. Modern, designer and attractive plus size anarkalis are the best choices for every woman who wants to rock the dance floor. The traditional Indian anarkali suit with trendy, stylish and fashionable designs and patterns will surely skip your heart a beat.
9. Churidar
Churidar can be paired with cotton frock style kurtis as well as other kurtis, like A-line, straight cut, short and long length kurtis. Churidar are longer than the length of legs, the excessive length folds at the ankles and appears as churi, therefore known as churidar.
10. Plus Size Kurta Palazzo Set
Kurta Palazzo set is the most comfortable attire among all the other types of Indian wear. It is a combination of palazzo, kurta and dupatta. A palazzo resembles a loose and wide-leg pajama and it tapers at the ankles. Whereas a kurta is the upper part of the outfit and we wear it above the palazzo and it is of knee-length or nowadays even longer. Trends are evolving, like the style of palazzo suits are changing but the essence remains the same.