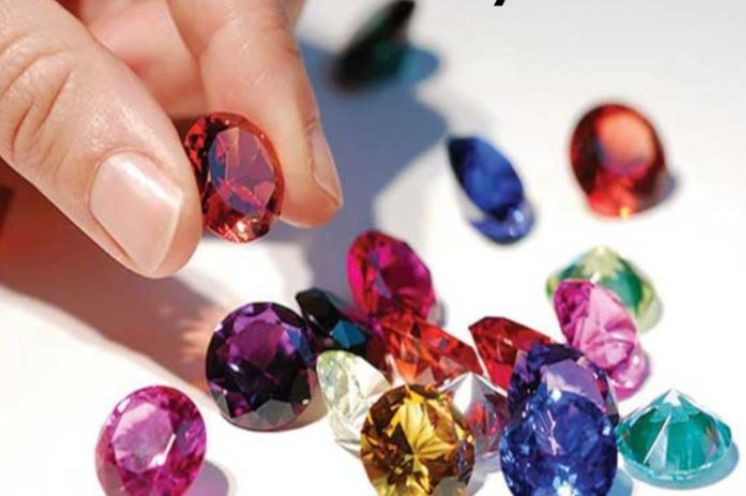 Introduction
Aries Birthstone – Gemstones have been used throughout history for various purposes, such as a source of power and wealth, decoration, a bartering tool, and even as a symbol of love and affection. As natural science has advanced, so has the science of gemology and mineralogy. Gemstones are chosen based on their beautiful color, texture, rarity, and durability. They are materials in the form of minerals and rocks that are naturally formed and transformed into stunning pieces of jewelry. The gemstones are discovered on and below the earth's surface, and research shows that the industry of beautiful and colored gemstones is worth approximately 10-12 billion US dollars.
Each gemstone is precious and has a unique beauty that adds quintessence to human life. Before they can be used in jewelry, jewels must go through a cutting and polishing process. Gemstone rings are becoming more popular as engagement rings as they want to add a personal touch to their jewelry. Various gems are available worldwide that can be transformed into handmade jewelry curated in sterling silver. Ranajay Exports is a wholesale gemstone jewelry manufacturer and supplier offering chakra, handmade, sterling silver, and zodiac sign jewelry. 
There are 12 Zodiac signs, each linked to a planet. Gemstones, Astral Stones, or Bhagya Ratna are connected to each Zodiac Sign. Each gemstone has metaphysical properties that can positively impact a person's mind, body, and soul.
This article will discuss the Aries birthstone, its Meaning, benefits, uses, facts, and where to find Aries gemstones and birthstone jewelry.
About Aries Birthstone and Its Meaning
The first sign of the zodiac is Aries. The people born between 21 March- and 20 April have Aries as their zodiac sign. The head of a ram represents the Aries zodiac sign, and its ruling planet is Mars. Individuals born under this sign are adventurous and enjoy exploring new places. They possess confidence, impatience, honesty, and a tendency to fall in love easily. Their personalities are daring and dominant. The letters A, L, E, I, and O are the letters of the alphabet suggested for naming individuals born under this sign.
The Aries are typically passionate and energetic person who fearlessly tackles challenges and embraces pleasures, although they may face hitch. They are always ready to start or do any work, no matter how many obstacles they face. A sense of superiority and gratification can be seen in any victorious Aries-born person. These people are determined to get a particular direction they follow.
The social life of Aries is loaded with new battles. These people are swift to put what is up in their minds. Also, they like healthy competition and are driven by success. Just like being first of the zodiac sign, these people have the potential always to be number one. When in love, Aries-born always try to give their best and forget if they are getting in return. They love to do or put a little extra effort to prove themselves. 
Benefits And Uses of Aries Gemstones
Aries's zodiac birthstone includes aquamarine, jade, red coral, red jasper, ruby, bloodstone, aventurine, and topaz gemstones and is worn to enhance their luck. These stones support Aries' active nature while inspiring calmness. These gemstones are worn to remove the harmful effects of Mars, improve mental strength, and summon up the inner fighter to achieve your objectives. They also symbolize wealth and attract abundance. Any of these stones can become a game changer for Aries-born people.
A high carat of energy, purity, and luck in gemstones are required to satisfy the effect of ruling the planet. These lucky gemstones help reduce anger, anxiety, and stress and ward off evil energies. They also relieve you from severe eye and kidney ailments.
Healing crystals and stones will help you get a sound and balanced body, soul, energy, and mind. It also lets you stay connected to your spirit and soul, safe and grounded. These stones will help you attract harmony and abundance if you wear them correctly. Wearing Bloodstone as Aries's birthstone will help cure health issues related to Root and Sacral Chakras. Not just bloodstones, many other stones are beneficial for Aries born, such as amethyst, jasper, aquamarine, jade, and topaz.
One can wear zodiac sign Jewelry, such as Aquamarine Jewelry, Aquamarine Ring, Amethyst Jewelry, Amethyst Ring, Jasper Jewelry, Jasper Ring, Jade Jewelry, Jade Rings, Bloodstone Jewelry, Bloodstone Rings, Ruby Jewelry, Ruby Ring to attract positive effects of these stones in the form of jewelry.
You can find these beautifully made jewelry from Rananjay Exports. All pieces of jewelry in this company are curated with sterling silver. We all face obstacles in life, such as health issues, financial difficulties, or relationship problems, which can result in dysfunction and blockages in the body's seven chakras. These gemstones encourage spiritual and personal growth and protection against evil deeds. Also, it empowers energy and has many healing properties. 
Facts Related to Aries Birthstone
There are many interesting facts associated with the gemstone industry. Gemstones have a significant impact on our lives. Astrology links the path of our lives to our birth chart, which is associated with a Zodiac Sign. Our fate and luck are believed to be influenced by our Zodiac Signs. Gemstones are known to possess healing and attractive powers.
These will benefit those who wear them with actual feelings and manifestation. It is also a fact that each gem has its significance. There are large varieties of gems found around the globe. It is also a fact that before wearing any gemstone, one should take an astrologer's advice. These stones affect a wearer mentally, physically, as well as metaphysically. These gemstones help in powering cosmic energies in the universe. It will surely change your lifestyle by enhancing your thinking and calming your body, mind, and soul. 
These are the facts that are studied, and many theories were made. No one will deny this truth related to gemstones. These gemstones have a limitless number of advantages. 
Conclusion
Rananjay Exports is a trusted worldwide, unbeatable wholesale gemstone jewelry manufacturer and supplier. It has been serving in this industry for a more extended period and pleasing its customers worldwide. This company has experienced jewelry designers who design jewelry according to the tastes and preferences of customers, keeping in mind trends and fashion.
Rananjay Exports is the best Wholesale Gemstone Jewelry Manufacturer and Supplier that provides the best Handmade Jewelry compiled into Sterling Silver. They also have a wide range of Chakra Jewelry, zodiac sign Jewelry, Aquamarine Jewelry, Aquamarine Ring, Amethyst Jewelry, Amethyst Ring, Jasper Jewelry, Jasper Ring, Jade Jewelry, Jade Ring, Bloodstone Jewelry, Bloodstone Ring, Ruby Jewelry, Ruby Ring according to Aries zodiac sign. 
These gemstones are considered as Aries Birthstone. All Rananjay designs feature 925 sterling silver, ensuring beautiful and lasting durability for your favorite accessories. If you're looking for curated sterling silver gemstone jewelry at wholesale prices, you've come to the right place. We offer a wide range of high-quality products with a perfect finish and shine that can be hard to find elsewhere. In addition to our competitive prices, we provide many offers to make your purchase even more affordable. 
But our jewelry is about more than just about looking good. Gemstones have been known to work according to our manifestation, so buying them for your mental and soul peace is essential. When you wear our jewelry on special occasions, it can enhance both your inner and outer beauty.
Author Bio:
This is Aryan, I am a professional SEO Expert & Write for us Jewelry blog and submit a guest post on different platforms – JewelsTrends provides a good opportunity for content writers to submit guest posts on our website. We frequently highlight and tend to showcase guests.