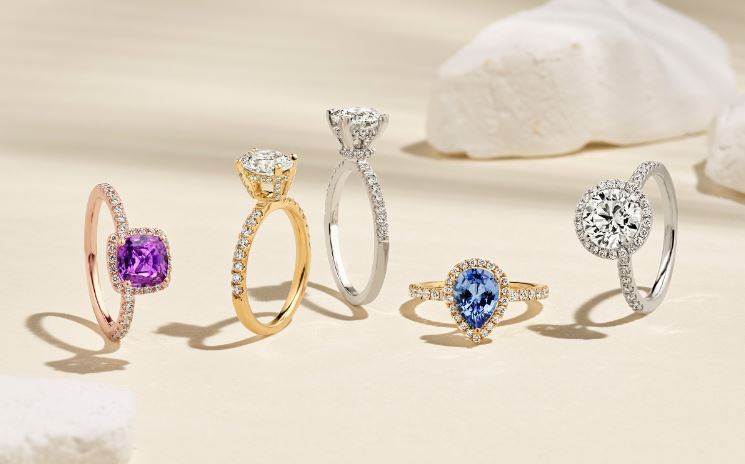 Top 10 Engagement Rings
An Engagement Ring is a symbol of deep love and connection. In every religion, it is celebrated when two people decide to dedicate their lives to each other. Whether you choose a traditional or modern engagement ring, the Engagement Ring will always represent the love you share with your significant other. If you are yet to decide what kind of engagement ring you want but want to know, we have listed the top 10 Engagement Rings trends for 2023. Consider this all the inspiration you require according to your preferences.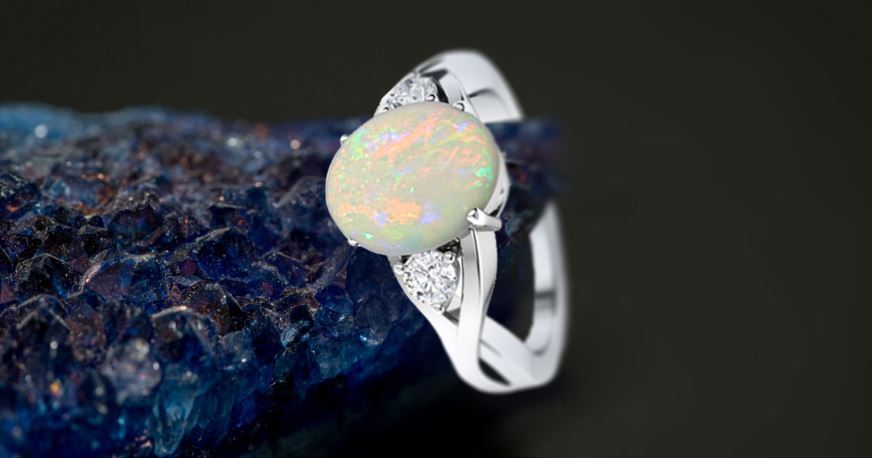 Are you someone who is looking for an engagement ring that is non-diamond for brides because they display a different kind of sparkle? Opals make perfect engagement rings. They are magical, colorful, and beautiful. Opal has many healing properties as well. Opal is believed to be an emotional stone, reflecting the wearer's mood. It's a stone of love; it brings love and positive energies into the lives of those who choose to wear it as their Engagement Ring or even Birthstone jewelry.
Because opal is not as hard as many other gems, it is sensitive to scratches and chips.  
Moonstone Engagement Ring:
If you like shimmering gemstones, have faith in astrology, or want something trendy with many values, then Moonstone is just for you. There are many beliefs related to the Moonstone. That the stone is made from the ray of moonlight as it shines bright like the moon, it is believed that a Moonstone can bring fertility, love, and relationship stability. It also connects you with your partner on a spiritual level, so why not choose a Moonstone Ring for your perfect big day? It looks gorgeous and classy on the hands. Moonstone is accessible in various sizes. Larger sizes of high-quality materials are becoming increasingly scarce.
Larimar Engagement Ring:
Larimar is a beautiful bluish stone that gives the feeling of fresh sea vibes looks elegant for a big occasion and simple as well for an essential casual day; once you choose to wear a larimar ring or gift it to your partner as an Engagement Ring, you would start feeling it's all healing properties like larimar is known for attracting your soulmate, improve communication skills, helps to connect you with your partner—so gift Larimar ring to your partner for the best spiritual intimacy and fantastic future. Even the most seasoned crystal experts are still sifting through the precious qualities of larimar, which is considered a relatively new stone on the block.
Moldavite Engagement Ring:
Moldavite is a famous stone due to its spiritual and healing properties. It is a beautiful greenish-to-brown stone. A moldavite Ring has different effects depending on the wearer. It is said to bring partners that align with your energy level and attract love. Wearing a Moldavite Ring for your engagement can also help you to take all the advantages of a Moldavite Ring. Moldavite is a rare and valuable stone, and it can be expensive because so much of it is still too deep in the earth. Moldavite extraction is a complex process, and refining it is even more difficult, making it even more unique. As a result, Moldavite is not abundant and will likely become extinct due to our planet's limited supply.
Turquoise Engagement Ring:
The eye-catching color of turquoise, with opaque shades of blue and green, makes it an excellent choice for an engagement ring. It's also very versatile, whether set alone or surrounded by diamonds. In addition, turquoise is easier to cut and carve. Turquoise helps those couples who are having a hard time in their relationship. It will protect you and your partner from evil energies that can ruin the relationship. Turquoise is a dynamic stone that can be cut into various shapes, the most common of which are beads, oval, and chips. The majority of turquoise is kept smooth to emphasize its color and texture.
Because turquoise is naturally beautiful, cutting is unnecessary to bring out its beauty. Depending on the style of the piece of jewelry, turquoise may be faceted or used in its natural state.
Garnet Engagement Ring:
Garnet is a stone with many meanings, but the most important are fire, passion, and love – all of which are ideal for garnet engagement rings! In addition, garnet has a naturally beautiful color that looks stunning. A Garnet has its own aesthetic values that are also trending among young people. Because of the color, most people wear garnets to enhance their looks and strong accessory game. Garnets can be used to complement everything from rings to brooches and tiaras to necklaces. The garnet looks stunning in yellow gold and pairs beautifully with pearls and diamonds.
Citrine Engagement Ring: 
Citrine is a semi-precious golden yellow-brown stone with many healing properties. Still, when selecting a Citrine Engagement Ring, Citrine holds emotional values like the connection between partners, which symbolizes health and happiness. Therefore, gifting each other Citrine Ring can bring joy, love, and abundance. Citrines come in a wide range of sizes. They're used to make delicate earrings, cocktail rings, and large jewelry pieces. When purchasing a citrine gemstone, keep the cut, color, clarity, and carat in mind. 
Peridot Engagement Ring:
Peridot is an astonishing greenish stone that looks great on hands and is perfect for Engagement occasions. Peridot engagement rings are a unique choice. The vibrant color and brilliance of the stone make it stand out. In addition, Peridot suits all skin tones, and you can pair them with other gemstones. Peridot, like its blazing origins, will surely burn bright and strong like your love (even if it's self-love). Its one-of-a-kind color can represent that one-of-a-kind bond. Peridot also protects you from negative emotions and purifies those who find their way to you, making it a helpful companion, whether alone or with others. 
Tanzanite Engagement Ring:
Tanzanite engagement rings gemstones are valued for their scarcity, stunning color, and intense depth. Although Tanzanite is much rare stone if compared to the diamond, amazing fact is it is still quite affordable – though its value slowly increases. This lovely twilight-colored gem is a good fit for your ring.
Amethyst Engagement Ring:
Amethysts represent spiritual purity, clarity, and peace of mind. They are also linked to wound healing, restful sleep, and calming dreams. In addition, amethysts are said to improve one's connection with the divine. Choosing an Amethyst ring as an Engagement Ring can bring you all of these benefits in your life. In addition, it has vibrant and beautiful colors, which make it look more appealing and eye-pleasing.
Final Thought:
Choosing an Engagement Ring is difficult, as you must keep trends, fashion, and spiritual beliefs in mind. We get it. We understand, and here in this piece of writing, you can see all the top ten engagement rings for 2023 to make it easier for you. Rananjay Exports – Manufacturer & Suppliers, provide all types of Gemstone Jewelry, including Handmade jewelry, for our spiritual astrology believers. In addition, we have Birthstone Jewelry and Chakra Jewelry. Choose an Engagement Ring according to your preference from this inspiration.