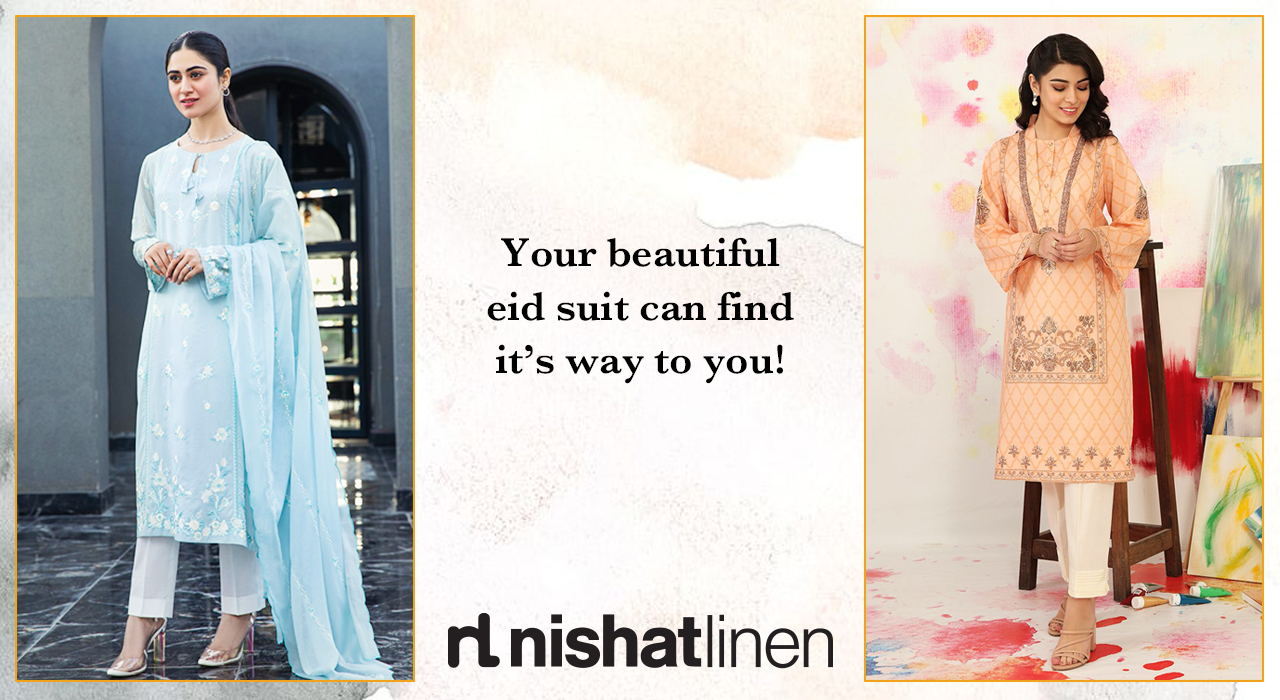 Eid-ul-Adha is one of the most anticipated occasions in Pakistan. As much as we are busy in preparations for sacrifices, much time is also spent looking for the right outfit. Choosing a suitable attire that goes with the season and occasion is a chore. The good news here is that Nishat Linen has launched its unstitched and stitched luxury collection just before Eid to make it more special. The Eid dresses available has a variety of hues and designs. You can go from pretty bright colours for the day to bold colours for the evening. The varieties do not just end here, you can choose from two and three-piece from eid collection as well.
As Eid this year and scorching climate are coming hand in hand, most women prefer lawn suits. Nishat offers astonishing clothes in stitched and unstitched lawn suits categories. Nishat Linen offers the perfect blend of cultural and contemporary attire. Eid dress designs here are an exquisite selection for this year's Eid.
Your beautiful eid suit can find its way to you!
It packs us with immense delight and energy to dress up on the glorious occasion of Eid. The brand's latest eid dresses are sumptuous with artistic designs and colours. It's true that everyone aspires for their eid clothes to be alluring. Eid suits from the brand are therefore full of subtle tones with attractive designs to make summer look more popping. The main aim of this brand is to constantly strive to offer some different and appealing designs for every event.
When a brand thinks so much about its customers, they also make sure that your favourite dress finds its way to you without any hassle. For this, women's clothing online shopping with Nishat Linen is considered one of the most user-friendly experiences you can have. Apart from providing perfect dresses for the eid, they also guarantee it reaches you safe and on time. So, choose from classic Zari net Angrakhas to modern, embroidered ladies dresses online that stand out with your style without worrying about the shopping nuisance.
Beautiful Eid-ul-Adha dresses to hit the right style notes!
It is quite safe to say that everyone is spoiled for choice with this eclectic line of the eid Collection 2021 by the favourite Nishat Linen. A brand that is well-known for curating traditional wear, their latest additions have all the right notes. It features a fusion of summer hues paired with cool pastel shades and the neat thread work to top it all. These beautiful dresses can leave an exemplary impression on Eid and other formal events.
The Eid-ul-Adha dresses have come with immense varieties and designs. Embroidered suits with stunning chiffon and net dupattas make you drool. Cambric material provides the right kind of festive look along with comfort to give you elegance all day long. This is one of the exclusive brands that purvey every woman in Pakistan. It not only fascinates us with the most fashionable clothes from years but is also a trendsetter in the festive clothing lines.
Unstitched clothes that bring fresher air to your wardrobe
Best known to offer dresses that showcase culture along with a hint of modernity and trend, the brand has uniquely new designs of dresses for Eid. The latest collection is truly a breath of fresh air and has its own uniqueness. The variation of colours that the brand offers make you look the best in the room. The well-balanced patterns that look perfect in summers and give you a festive look are definitely a distinguishing feature of the brand.
The collection features finely printed lawn, digital prints, cambric material, and embroidered lawn with fancy patchwork. The beautiful summery tones with flowy dupattas and neat handwork give you the right festive goals. The prints on classic whites, bold blacks, and bright pinks give an illusion of heavy fancy work on Eid with the comfort to carry around all day. The unique prints, variation of colours, and choice of material make you look dreamy and ravishing. For this, stop nowhere except the most trustworthy brand if you prefer easy eid dresses online shopping.
Worry no more about the heat this Eid, pick comfortable clothing!
The timeliness brand that is well known for its signature cuts, subtle tones and contemporary combinations always come up with something unique and trendy. Staying true to the aesthetic sense, this season they have come up with a collection that can turn heads everywhere. To beat the scorching heat, they have introduced the most comfortable summer dresses for your eid to be trendy and pleasant. The most alluring point is that online shopping for ladies has now become comfortable and untroubling. The customers have infinite appealing choices for Eid, from full-fledged fancy dresses to breathtaking floral designs.
Reads More: This Is How the Body Changes With Yoga
After striving for years to get better every year, the brand is now the top-notch name in Pakistan. It is now the most reliable brand and choice of many women in Pakistan. Their wide range of variety and premium quality is always up to the mark at the fantastic price range. The latest collection has a variety of colours because they know there is no limit for fashion lovers in Pakistan.
From classic whites and sober cream colours to bright and summery pink tones and perfect blacks with golden detailing. From unstitched to stitched clothes, traditional to smart pret options, you name it and they have it. Another amazing option to buy the desired cloth at a price of meters under the category of freedom to buy is also available. Order your pick today and get it delivered to your doorstep in just a few days. So speed up and buy your ideal dress from Nishat Linen's new eid collections to look flawless on Eid at reasonable prices.