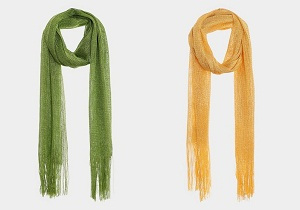 Singling out products and styles to sell is almost an art form if you do it well. You have to predict what styles are going to be popular and be prepared in case a sudden trend emerges on the market and people flock to the stores to find that exact style. It can be a roller coaster of a ride trying to forecast trends, but you can give yourself a leg up if you pay attention to certain things consistently. Looking at wholesale scarves, you likely can stock up on some good choices if you consider seasonality and classic patterns.
Seasonality
One of the first details you want to consider when shopping for wholesale scarves is the season you plan on selling them in. You should know what the weather is like in that area and what the temperatures will be like. People usually want to buy their scarves in the same season they plan on wearing them, so keep that in mind. If the winter is approaching and temperatures drop rapidly, then you should look at wholesale scarves that are suited for the weather.
Look for ones made of thicker, warmer fabrics like wool and knit, that you can imagine someone using to fend off the cold. Longer scarves and infinity scarves will likely be more sought out as the seasons shift into autumn. In the warmer seasons, managing with the cold is no longer a concern and scarves become much more of a fashion accessory. In those cases, you will want to look for smaller, shorter scarves in lightweight fabrics like square scarves or ones that can be tied into a small twist.
Designs
When people are looking for scarves as a fashion accessory, you want to provide them with a good selection of styles so they can find the ones that suit them the best. At the same time, you do not want to have too many options or they may get decision fatigue and you will be overwhelmed by the amount of stock you have. Be strategic about which styles of wholesale scarves you are choosing. Get some more classic prints like polka dots, florals, and stripes that you know people will always want to see.
Reads More: Choosing the Best Wholesale Scarves to Buy
Then you can throw in a few extra styles to mix things up and give yourself a good range of choices. This should also help you keep up with passing trends and see what your customers are drawn to if they reach for some less common styles over others. It is also worth noting that brighter colors are more popular in the warmer seasons and neutral colors do better in the chilly months.
When shopping for wholesale scarves, it is important that you supply yourself with a fairly diverse range of styles so your customers will find what they want and you will be comfortable with your stock. It has never been easier to keep up with the changing trends since so much is readily available online. With its broad catalog of wholesale scarves, Wona Trading should be able to help you find the best ones to buy and sell. Shop online and get your inventory ready to go.